you can connect your Online Store with Facebook Messenger live chat. There are multiple benefits to it:
1.6 billion people already use Facebook Messenger to communicate with friends and brands.
Facebook Messenger live chat helps you provide stellar customer service.
Recommend other items based on customer's needs, help choose the right size, or give advice on how to use your product.
Stay in touch with your customers, communicate efficiently, and remind shoppers about offers and discounts.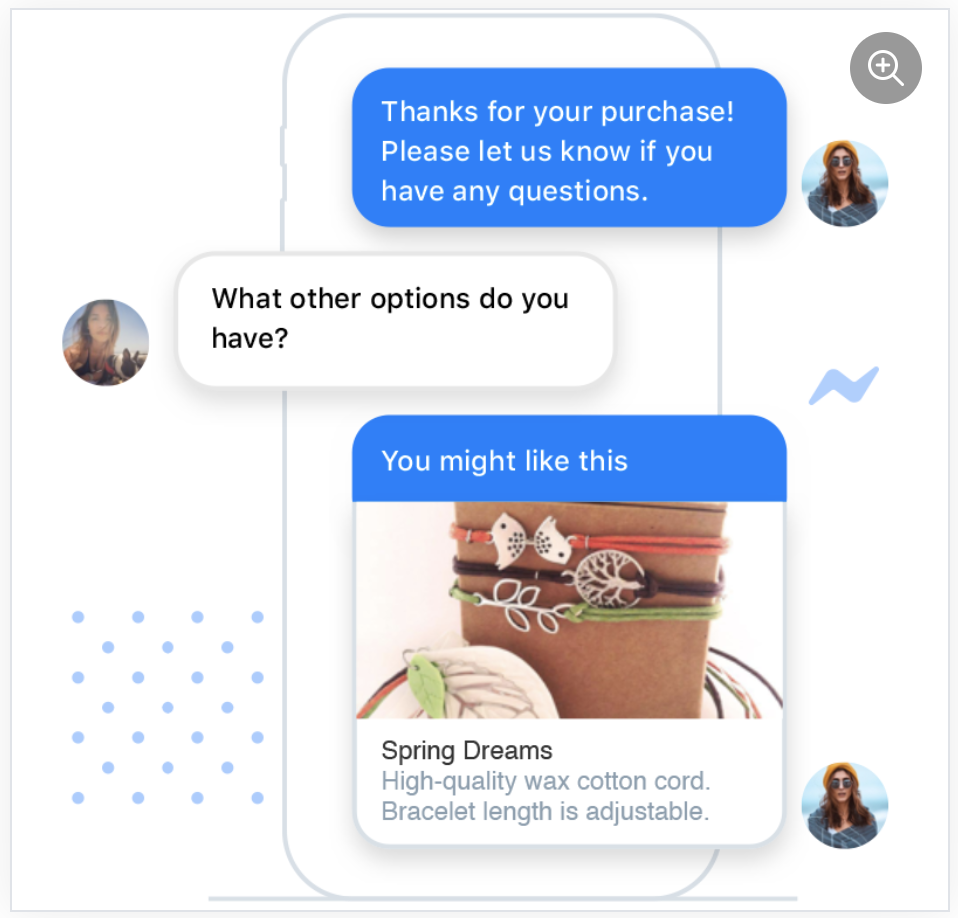 You can reach your customers even more easily by connecting your own Facebook Messenger live chat right in your Online Store Dashboard.
Connect Facebook Messenger to Online Store
Here's how to link Messenger to your Online Store:
Go to your Dashboard and open Other Channels > Facebook Messenger:


Click the Connect Facebook page button.
Choose a page that you use to communicate with customers and click Save.
Specify your store's domain and click Save. This step ensures your store's domain is whitelisted on your Facebook page. For security reasons, the Messenger plugin works only with those domains that you have whitelisted.
To change the store's domain or add other domains, go to your Facebook page, then go to Settings > Messenger Platform > Whitelisted Domains.
Congratulations! Now you can chat with customers right from your product pages and keep your sales growing!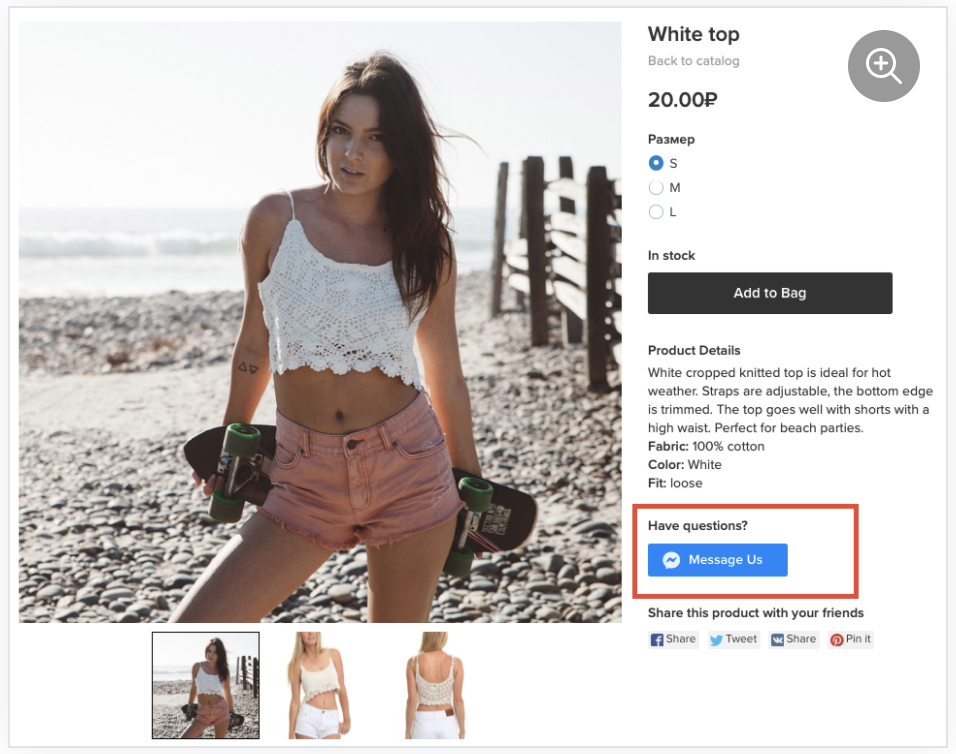 The Facebook Messenger icon also appears on the storefront: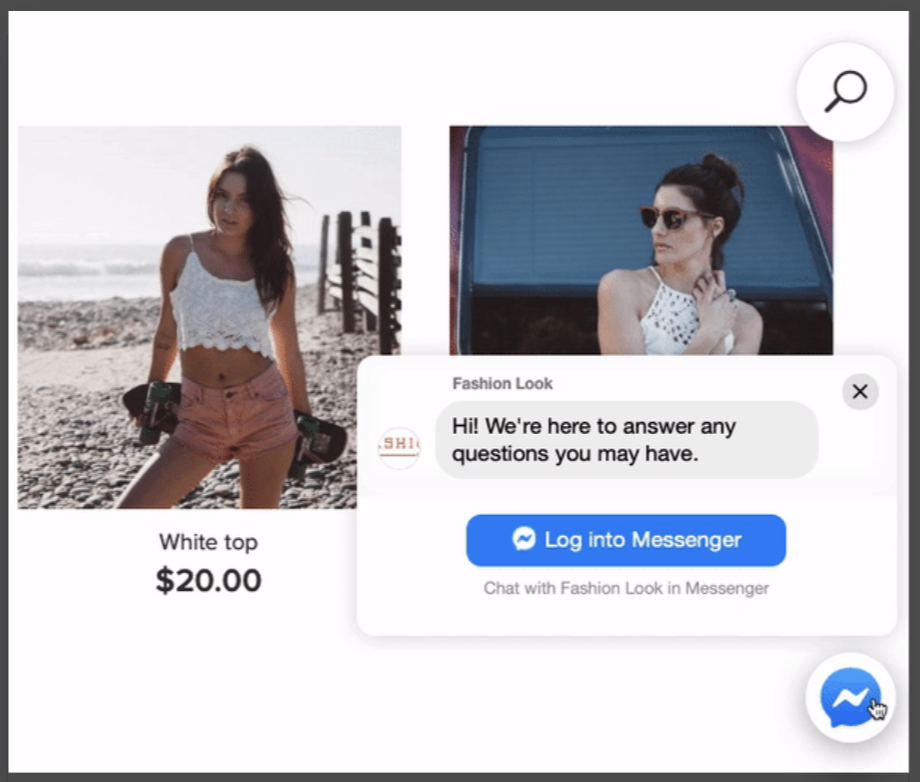 Both you and your customers will see your chat history in Messenger and in their live chat on your website.
A Facebook Messenger greeting brings your brand and personality to life online. Open your Facebook business page settings, click on the Messaging tab, and navigate to the Response Assistant section.
You can write a message up to 160 characters and use the name of your recipient, a Facebook page link, or an address.
Another helpful setting is Instant Reply, an auto-response to the first message someone sends to you: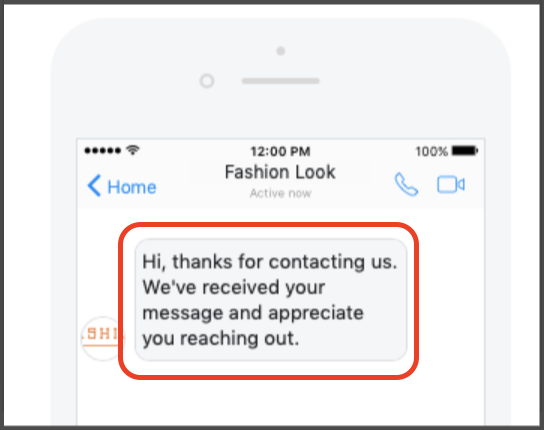 To activate Instant Reply, go to Inbox at the top of your Facebook page, then navigate to Automated Responses. You can customize your message to say hello, give more information about your store, or let customers know when to expect a reply.
In the same Automated Responses section, you can also turn on an Away Message. People will receive this if they write to you when you're away and can't answer immediately: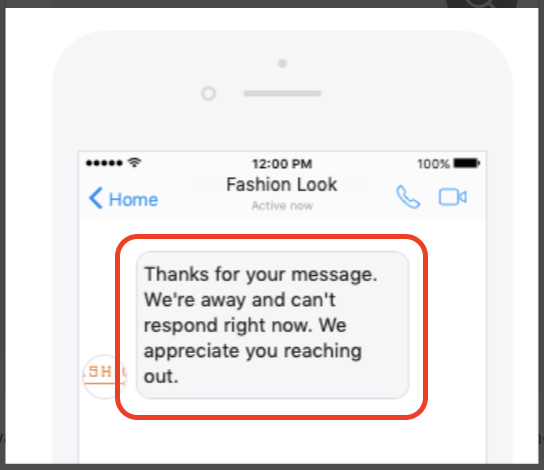 To use this feature, you'll need to set your Facebook page's messaging status to away. Go to your Inbox, and in the left column, set your messaging status to Away.
Navigate to the Automated Responses section and edit your Away Message. Let customers know exactly how long you'll be away and when they can expect your response. You can also add personalization: a name of a recipient, a Facebook page link, or an address.
Create saved replies
Customers often ask similar questions about price, size, or the use of a product. To save yourself time answering these types of messages, you can use Saved Replies. For example, here's a Saved Reply that helps customers choose their size: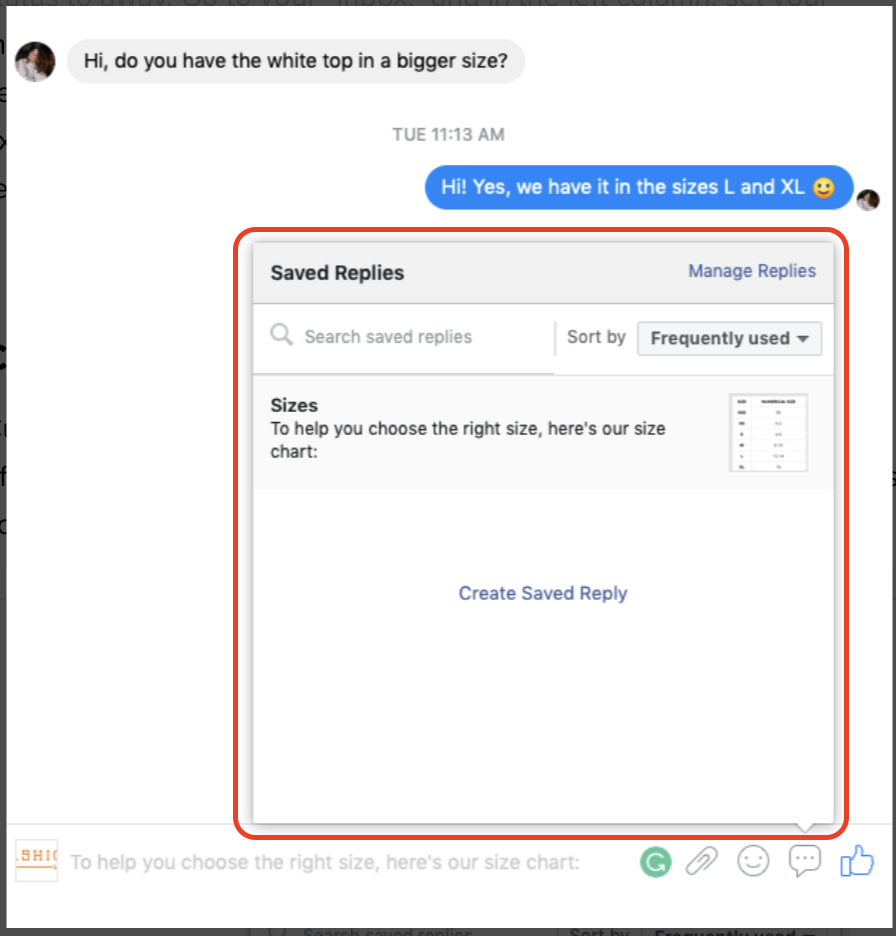 To start using this feature, go to Facebook Messenger and open any chat. Click on the icon with three dots at the bottom of the chat window and choose Create Saved Reply.
Enter a reply title and the message itself. You can add photos or even personalize your messages as much as you like.
Share locations
Do you offer in-store pickup, sell at street markets, pop-ups, kiosks, etc? Share your location with a customer in seconds to save time texting directions to your shop. Location-sharing makes it easier for customers to find you fast.
Make use of the Facebook Pages Manager app
You can install the Facebook Pages Manager app (iOS, Android) to manage Facebook messages, comments on your posts, and Instagram comments in one inbox. The app allows you to see all of your notifications in one place, and you'll be able to manage your pages and reply to clients without using a computer. This way, you'll stay in touch with your customers no matter where they start conversations: in Messenger, on Instagram's DM, or in comments on your pages.
Other helpful articles