You can give your customers a way to buy in your store without ever leaving the Instagram app by tagging products in your posts and stories. Instagram uses a Facebook Shop catalog to find and tag products.
Once your products are tagged, your customers can see a bag icon and tap a link to view the item's name, pricing, description, additional images, and a direct link to your storefront product page to further purchase a product.
With Online Store, you can sync and connect your Facebook Shop with your Instagram business profile in a couple of clicks. As a result, you'll have multiple sales channels — your product catalog will appear on your website, Facebook Page and Instagram – and you can manage catalog and orders from one place, your Online Store dashboard.
Requirements for selling on Instagram
Before you get access to tag your products, the Instagram/Facebook team will review your account. To avoid having your store rejected to sell on Instagram, you need to make sure that your business meets these requirements:
Your business must primarily sell physical goods that comply with Facebook's commerce policies and merchant agreement.
You need to be approved by Facebook, and your Facebook page can't have any age or country restrictions. Instagram uses your Facebook Shop catalog to find and tag products.
Your business must be located in one of the supported countries.
Your Instagram account must be a business profile and connected to a Facebook Shop catalog.
Your Instagram app must be the latest version.
Setting up Shopping on Instagram in Online Store
Shopping on Instagram provides access to Instagram's platform through Facebook, as Instagram uses your Facebook Shop catalog to find and tag your products.
To set up Shopping on Instagram through Online Store:
From your Online Store dashboard, go to Other Channels > Sell on Instagram.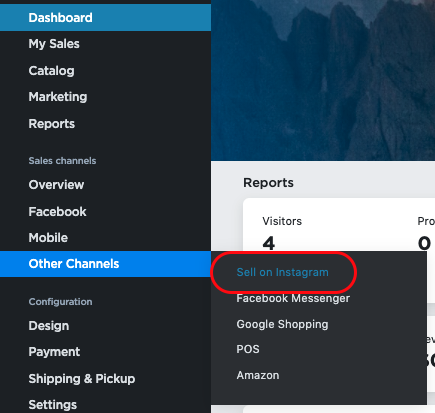 2. Click the Connect Facebook button.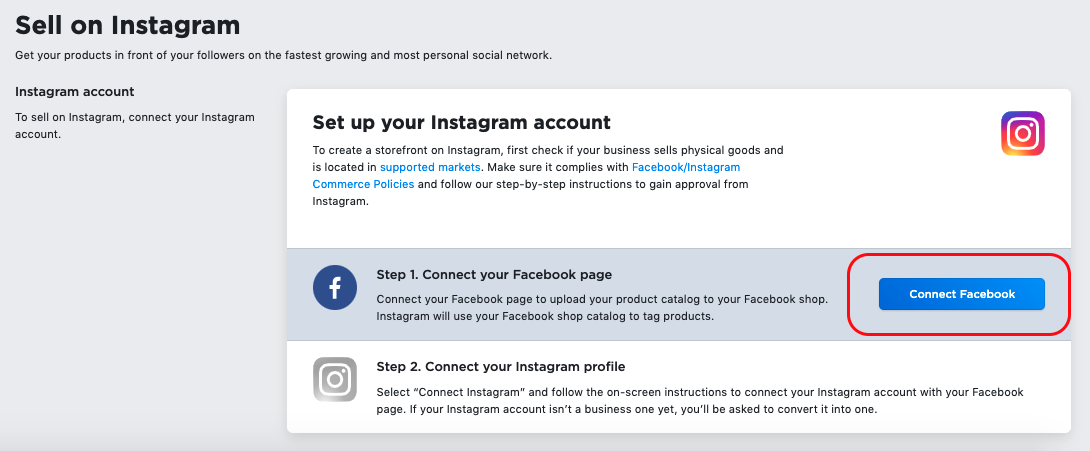 3. You will be redirected to the Sell on Facebook page. Click the + Connect Facebook Page button and choose the Facebook page you would like to link with, then click Save.

Online Store will automatically sync your catalog with Facebook and publish products from your online store on your Facebook Page.
Note: You must first set up your Facebook Shop and connect it to Online Store.
That's it! Once complete, Instagram will automatically begin the review process for access to product tagging. Online Store cannot enable the product tagging feature for your store.
You will need to wait for Instagram to approve your account for the Shopping feature. According to Instagram, processing time varies from a few days to a few weeks, and the timing is out of our control.
As soon as your account is approved, you'll receive a notification in your Instagram app that you can turn on the product tagging feature in your Instagram account.
To check on your account approval:
1. Go to Sell on Instagram page on your Online Store dashboard.
2. Scroll down to Approval status and click on Check your status.
Enabling product tagging on Instagram app
Once your account is approved for product tagging, you may enable the feature in Instagram:
1. From your Instagram app, go to your business profile options, then go to Settings.
2. Tap Shopping, and then confirm your Facebook account.
3. Select a product catalog to connect to your business profile.
4. Tap Done.
Sharing your website in social media