Keep in touch with your existing and potential customers by sending marketing emails and newsletters using Mailchimp. You can also use other Mailchimp marketing tools to grow your business:
- Create ads for Facebook and Instagram
- Publish and schedule posts for Facebook, Instagram, and Twitter
- Add an email capture popup to your store.
You can see all these options in your Online Store dashboard > Marketing > Newsletters after connecting the Mailchimp account to your Online Store.
Important: The following store data is synced with Mailchimp: customers, products, orders, discount coupons, and abandoned carts. This will allow you to send personalized emails and offers depending on the customer's purchase history.
Connecting Mailchimp to your Online Store
1. From your Online Store dashboard, go to Marketing → Newsletters.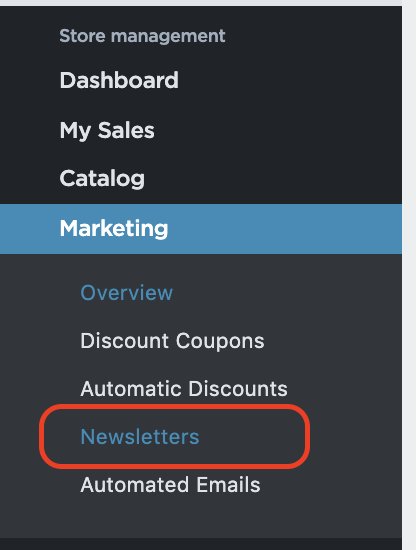 2. Click Connect Mailchimp or click Sign up Free below the button if you don't have a Mailchimp account yet.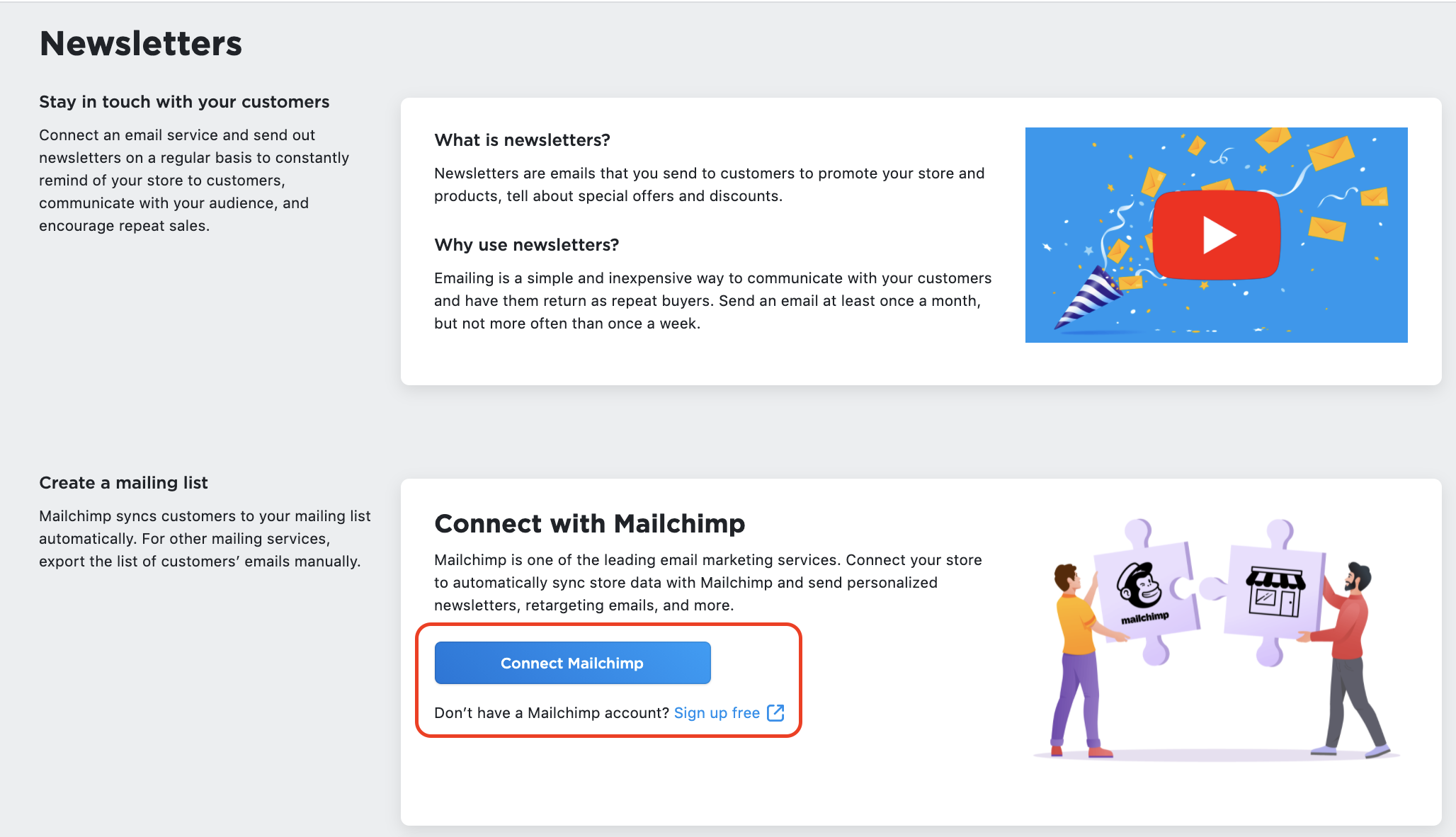 3. In Mailchimp website, enter your login credentials. You will be taken to the page where you will be invited to authorize the application:
Review the terms and conditions and click Allow. Mailchimp page will close and you can return to your Online Store. Your connection has been established.
Manage your Mailchimp connection
You will start the wizard which allows you to connect your site and fully use the power of Mailchimp.
Step 1: Choose Mailchimp audience.
Customers from your store will be automatically added to the chosen audience. You can either choose an existing Mailchimp audience or you can start a new audience and set it up from scratch (recommended).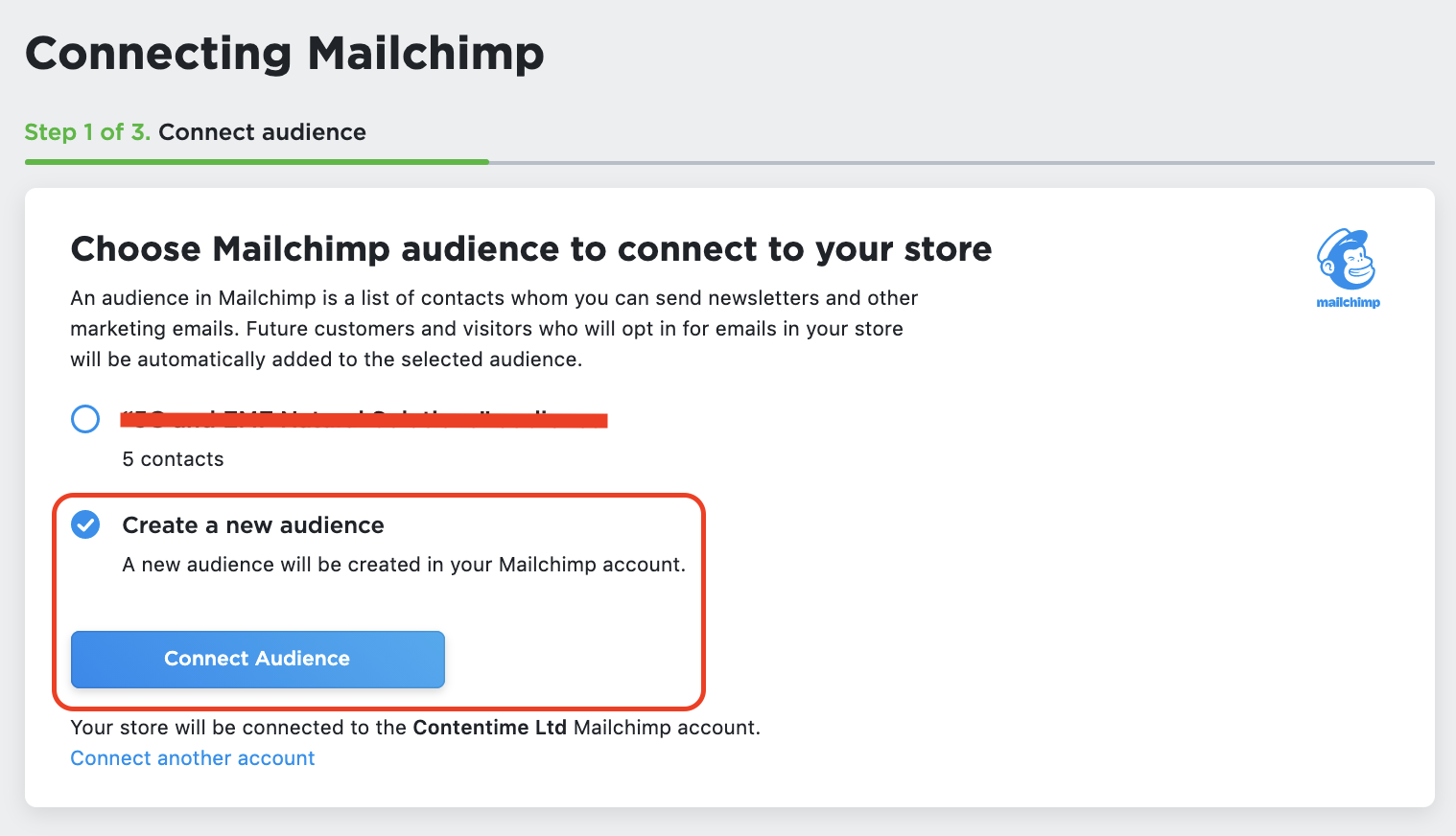 Click Connect Audience.
At this step, you can also choose to connect your Online Store to another Mailchimp account.
Note: Those customers who do not opt-in for your emails, will be transferred to the Mailchimp audience as unsubscribed members. You can send them ads, postcards, and transactional emails such as order notifications.
Step 2. Export your current store data to Mailchimp.
This step is optional, however, it will let you add a personal touch to your email campaigns. If you don't want to export your store date, click Don't export: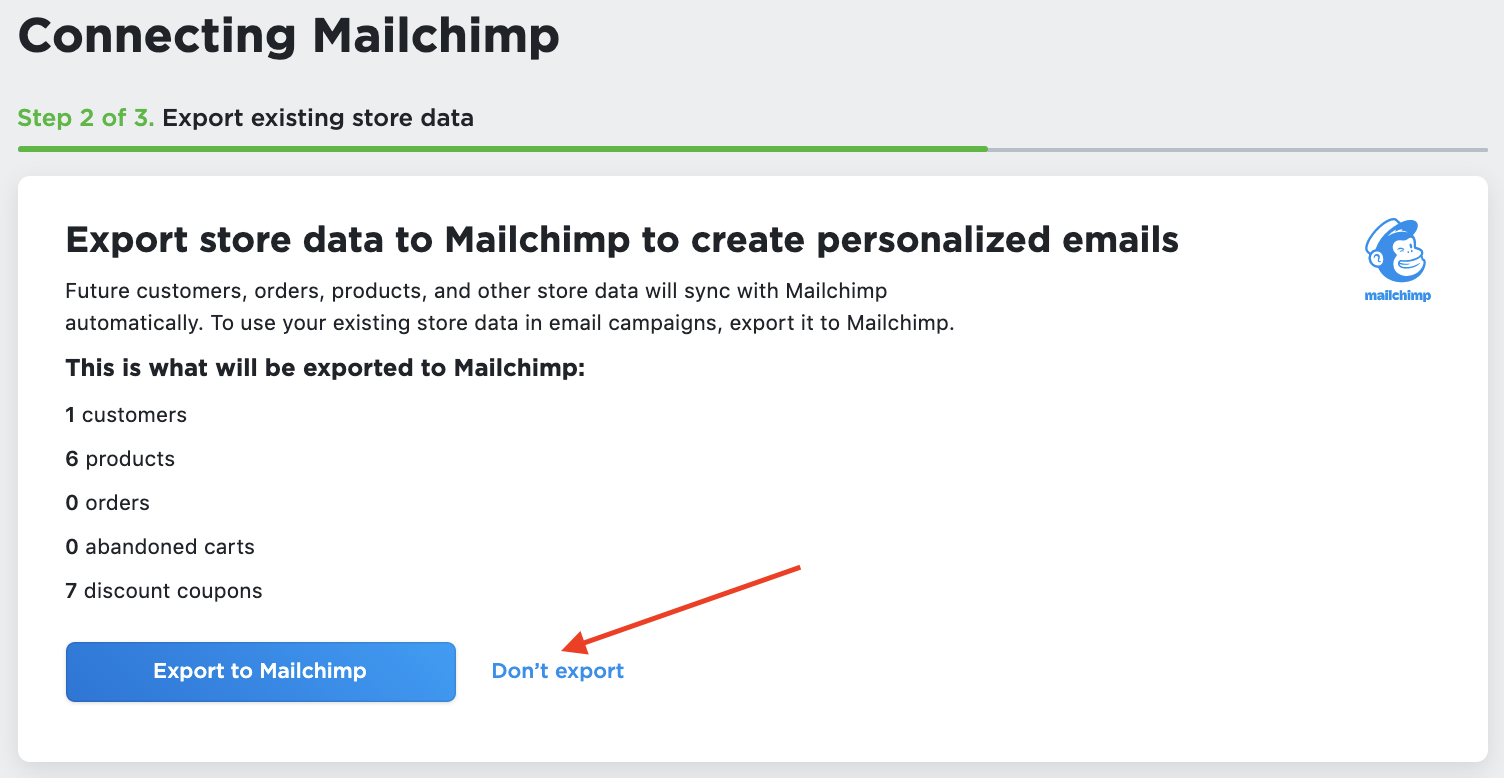 Step 3. Connect your site to Mailchimp.
This will allow you to set up Mailchimp's pop-up signup form on your connected site that will prompt customers to opt-in for your emails. This will also let you set up retargeting emails in Mailchimp to remind customers of your store and encourage them to place orders. This step is optional and you can always return to connect your domain later.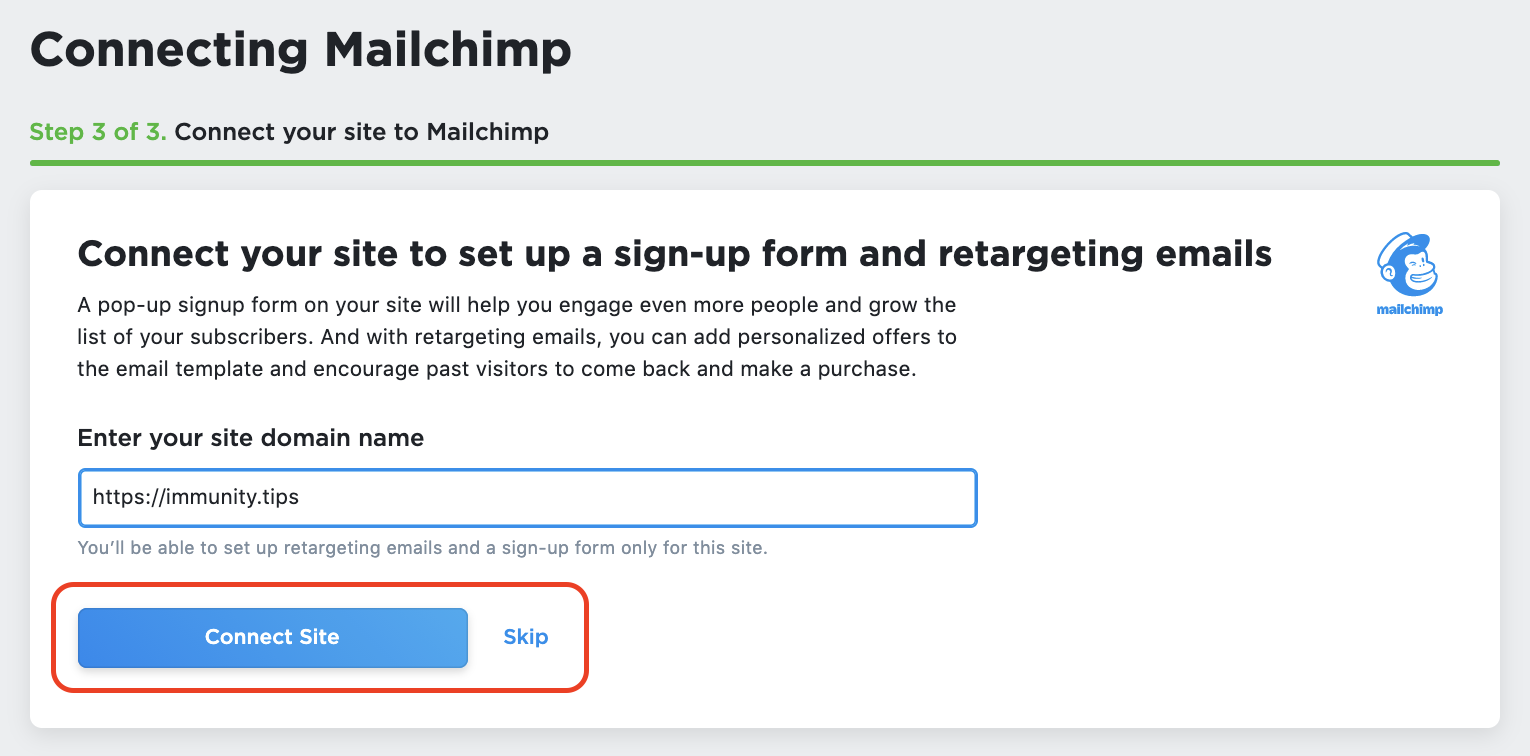 You will be asked to verify the ownership of your site by inserting the custom code to your website header. Copy the code: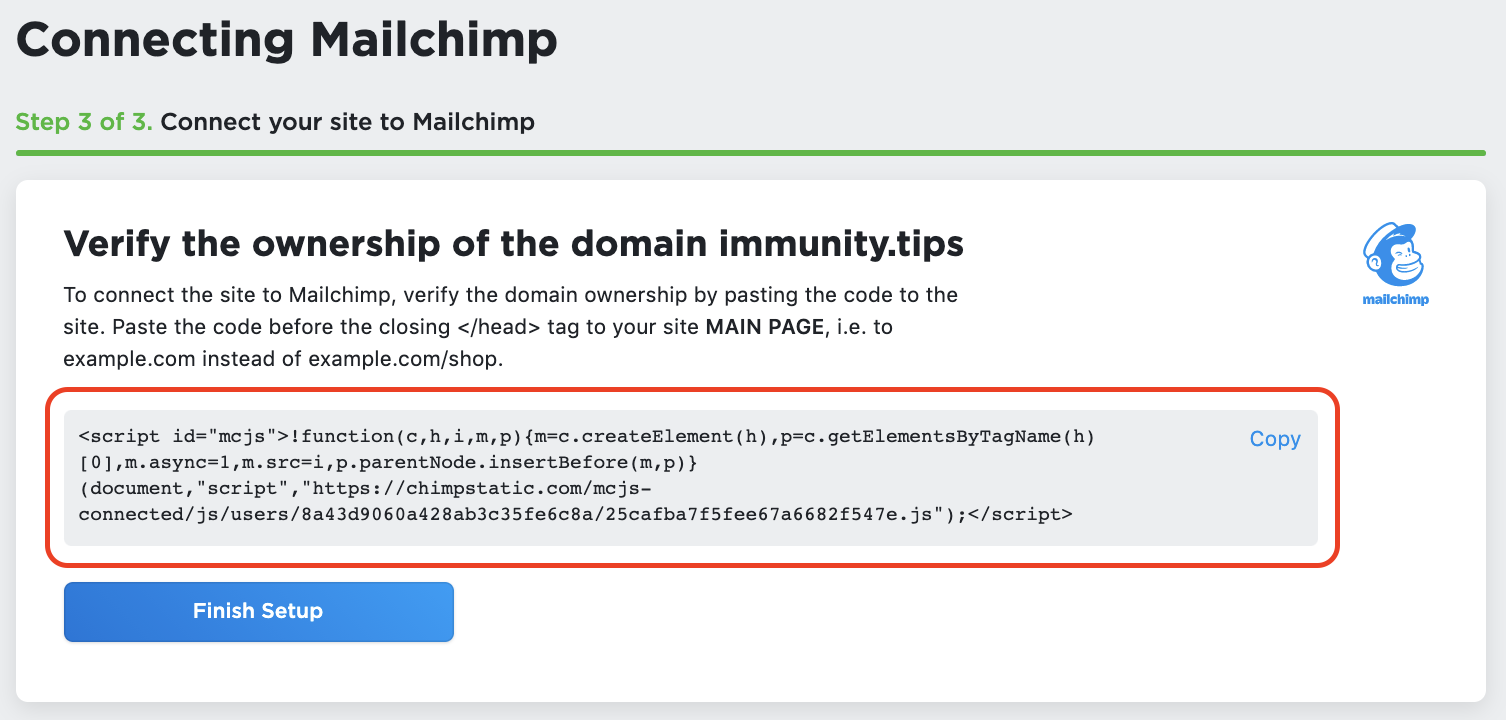 Then click Finish Setup.
You can later add this code to the Website Settings > General > Custom code section in the Sitebuilder: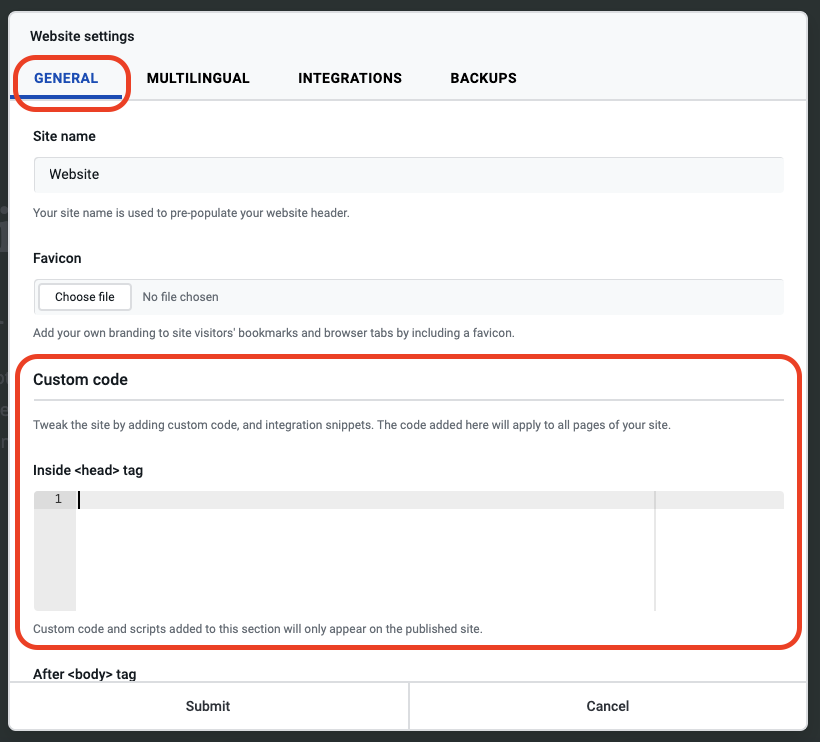 Once you finish setup, you will see the confirmation that your website has been successfully connected to Mailchimp.
From this page, you can go to your Mailchimp account to create your newsletter campaign, set up ads, create social posts, or scroll down and add a signup pop-up form: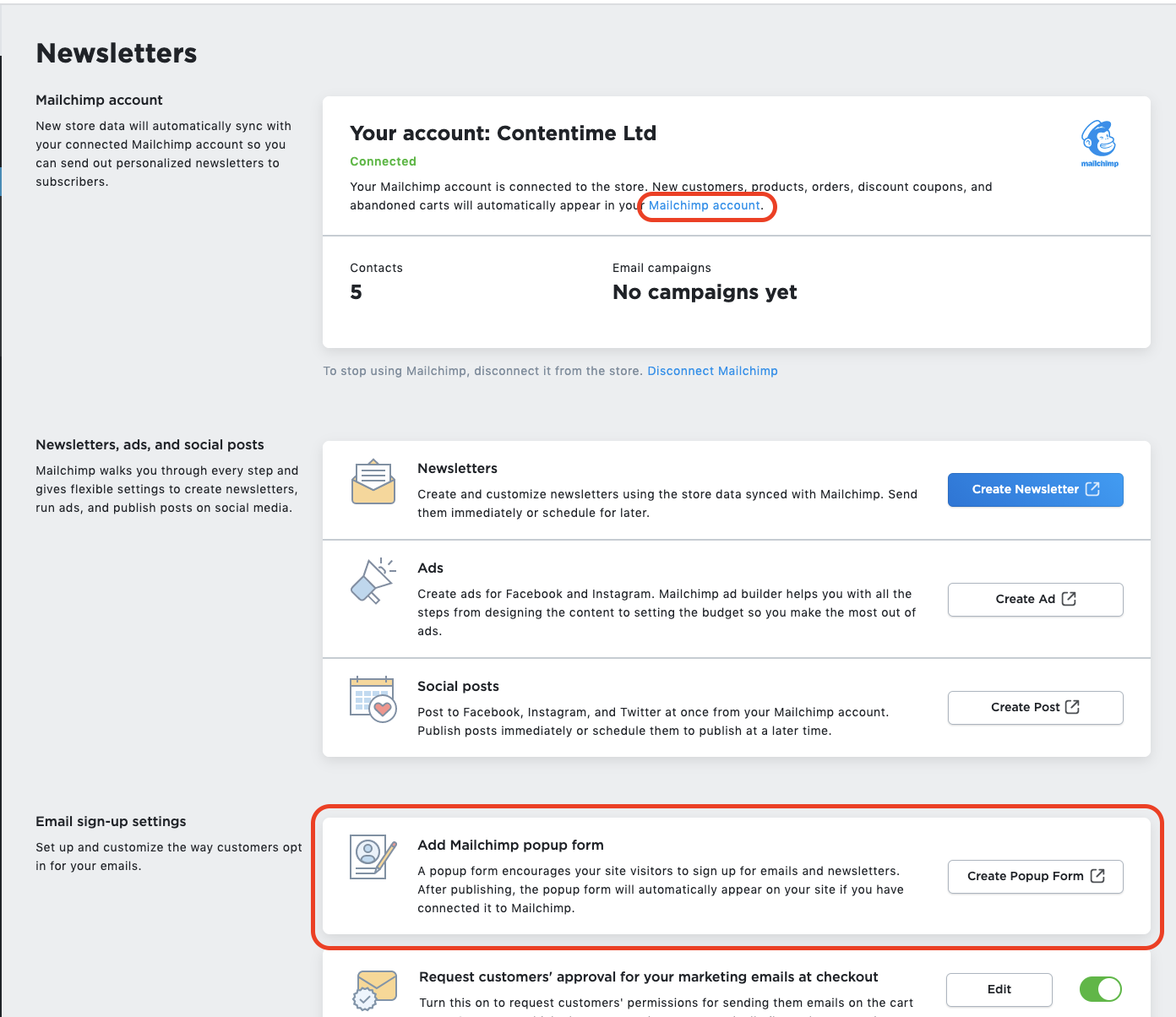 Other helpful articles
Creating automated marketing emails
Requesting marketing consent from customers