You can let customers specify their own prices for products in your Online Store by enabling Pay what you want.
Who can use the Pay What You Want feature?
You will find this feature useful if you are…
Selling handmade goods and want to give your customers the freedom to decide how much they want to pay for them

Working in a non-profit organization that needs to collect donations

Marketing yourself as a writer, painter, or musician
Looking for ways to give people a chance to say their "thank you" and to support you by paying as much as they want for your creative work
All you need is to set the initial price and let customers decide how much "extra" they are willing to pay.
Note: This feature is available on Professional and Unlimited Online Store plans.
Setting the pricing right
Before you begin, you need to decide on the initial price for your product. You can make it completely free, setting the price equal to zero, or just set as much as feels right to you or covers the cost of making it. Once the Minimum price is set, people will be able to add to it.
If you enable Pay what you want, it's up to the customer to decide how much to pay at the checkout. Be sure to set only those minimum prices that you are comfortable with.
How to enable Pay What You Want option
To create products with variable prices:
In your Online Store dashboard, go to

Catalog > Products

.

Click

Add New Product

or choose a product from the list.

Click on the arrow icon next to the

Pricing

field:


Click Enable "Pay what you want" pricing‍

.

Click the toggle button into the

Enabled

position.

Set the

Minimum price

for your product. At this step, you may also click

Add fixed price tiers‍

to provide one or more price suggestions:


Click

Save

.
Tip: You can have an unlimited number of fixed-price tiers for your product, but 3-5 price suggestions look better on the product page.


What your customers will see
There are two indicators that help customers locate products with enabled Pay what you want on your storefront.
The first one is "or more" text which is added to the price of the product, telling customers that they can either pay the initial price – or add something to it.


Your store visitors will also see the orange

Pay what you want

label. It becomes visible only if the initial price of your product is zero and it can be obtained for free.
Tip: You can create a separate category for all products with variable prices to make navigation in your Online Store easier and to make these products more prominent.
On a product page, instead of a traditional fixed price, customers will see a text that reads Pay what you want: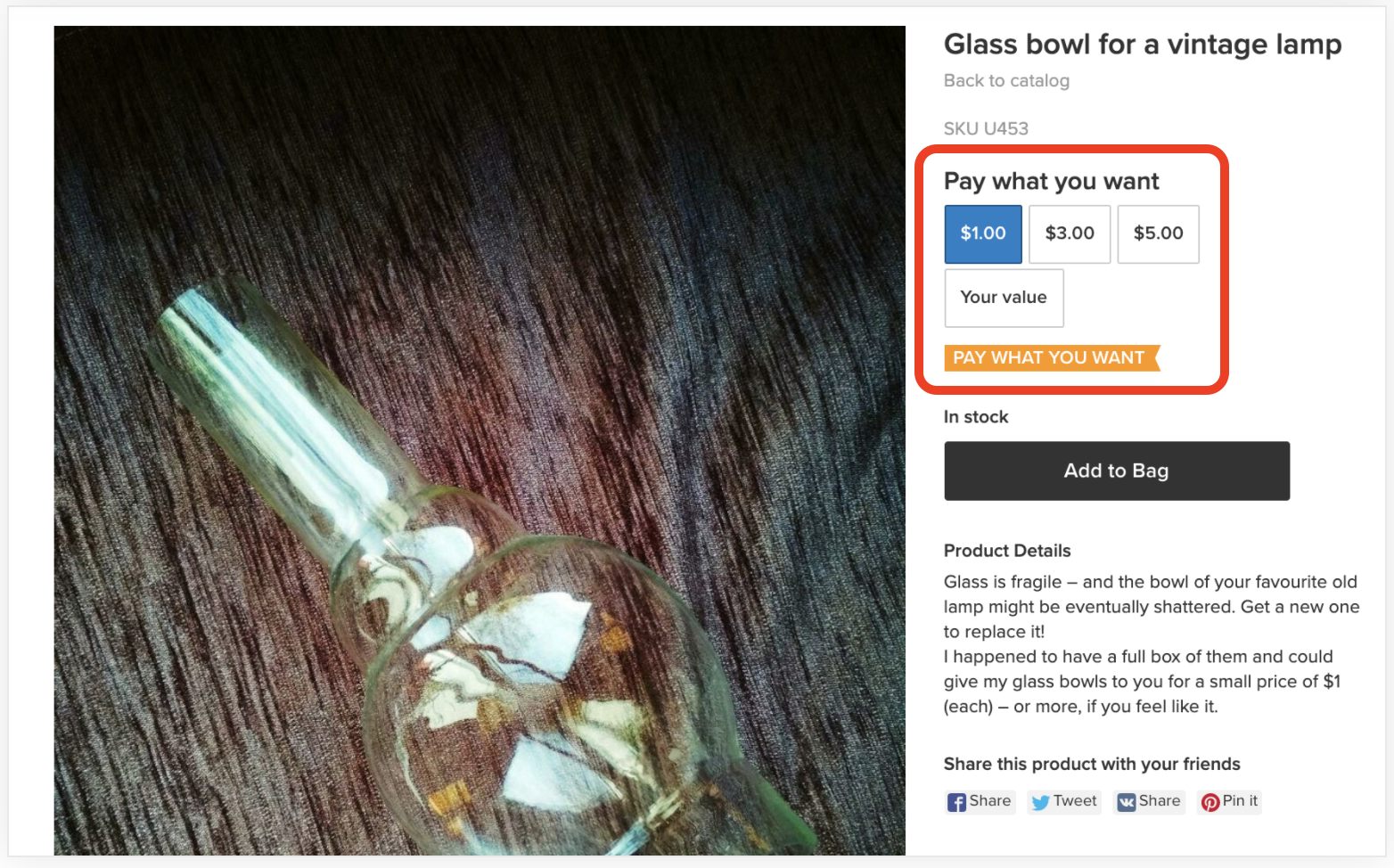 Note: Your value option with an empty field is always shown as the last option.
FAQ
Can a customer name a price that is lower than my initial price?
No, it is impossible to add a product to the cart if the price is smaller than the Minimum price. When trying to do that, a customer will see a special message saying what the starting price is: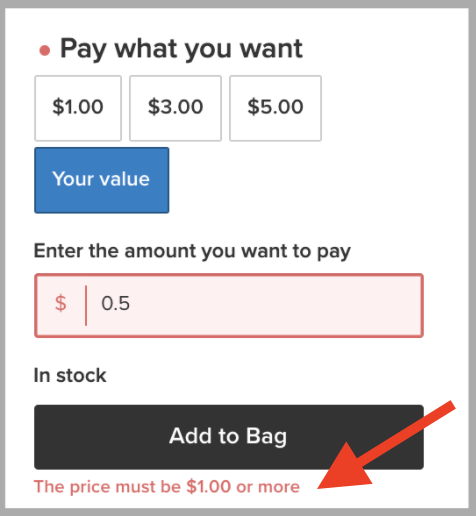 Can a customer add several items of the same product at different prices to the cart?
Yes, it is completely possible to name different prices for items of the same product and to have them all in one cart. Products will be displayed independently.
Will the taxes be different if I enable Pay what you want for my product?
A sale is still a sale. Taxes will be calculated for the final price based on your store settings.
Other helpful articles
Offering discounts and running promotions