A destination zone, or a delivery zone, is a geographical area where you deliver your goods or services. By defining delivery zones, you can inform your customers about delivery charges for orders to customer locations. For example, you can offer free shipping in your local area and paid to ship to other locations. You may also want to sell to customers within your neighborhood only.
What is the delivery zone?
A zone can be a single region, a group of several countries, or an area limited by zip codes, or a delivery radius on a map.
Creating a destination zone
When you set up shipping options in your store, they get assigned to the All Destinations zone by default. This means that customers from any location in the world can choose this shipping option and complete an order.
To offer a shipping option to a certain area only, you can restrict that shipping option to that area. To do this, you can define a zone on a map which is especially useful for local delivery.
Defining a zone on the map
To create a zone on a map for delivery, please follow these steps:
From your Online Store dashboard, go to

Shipping & Pickup

and click on the shipping method you want to create a zone for.


Scroll to the

Delivery zone

block.


Select

Zone on a map

and click

Create zone

:




You will see a polygon on the map. Use the drag handles of the polygon to resize the zone you deliver to with this shipping or delivery method. If you've specified an address as your

Shipping Origin

in the

Shipping & Pickup

page, that address will be pinned on the map:



Right-click on the created polygon to see how far you deliver in kilometers. This will help you estimate your delivery time:


Once you are done customizing the delivery zone on the map, click

Save & Finish

.
Adding more delivery zones on the map
If you offer the same delivery rate for different locations, click +Add new zone on the map.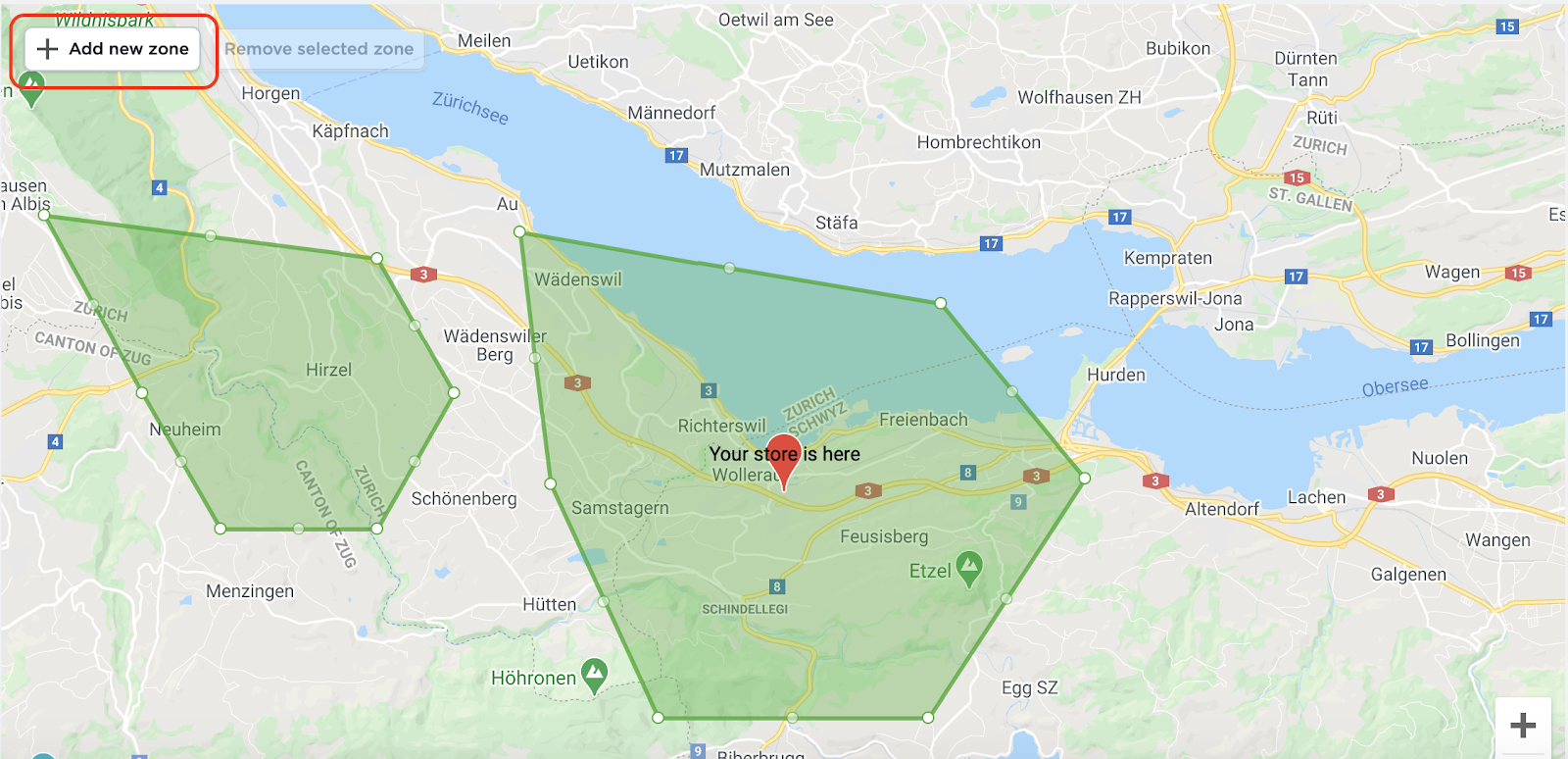 Use an additional polygon to define another area for your shipping option.
If your delivery conditions change, click Remove selected zone button.
Note: You can add up to 20 polygons per zone.
Once you are done adding delivery zones on the map, click Save & Finish.
To charge different rates for various customer locations, you can create additional delivery methods with other rates and set up other delivery zones for them.
Other helpful articles
Adding a Cash on Delivery (COD) payment method
Setting up local delivery in your Online Store
Shipments and payments tracking