You need to have a full backup of your site in place, and the same goes for your personal data as well. What's more, data loss can occur even if there's no human error involved. That means having backups is essential, even if you (and your team) know what you're doing. Backing up a website is easy in the Yola Sitebuilder.
Note: 40% of small to medium businesses don't back up their data. But with the Sitebuilder, your site is always kept secure.

What is site backup?
Backing up your website means protecting, saving, and archiving your content in several ways at regular intervals. This ensures that your content is safe at all times.
A catastrophic event when your Yola site suddenly vanishes, never to be recovered, is extremely unlikely. It's a lot more likely that you might accidentally delete something essential, like an important snippet of custom code. If that happens, you want to be prepared.

Types of site backup
There are two types of backups available in the Sitebuilder: manual and automatic. By default, Yola Sitebuilder will automatically back up your site without any extra thought on your part during the following events:

When you save the website for the fifth time

When you publish your website
Creating a manual backup
After making important changes to the website, you can manually back up your site. Follow these steps:
Go to the main menu and click Settings…




Under the

Backups

tab, click

Create site backup

:


Give your backup a name, for example, with a date or a note to remind yourself what has been changed:




Click

Submit

. Your website will be saved and the backup will be visible in the

Website backups

list:


Restoring your site from a backup
If you want to restore your website to the previously saved version, you can do that by clicking on the backup in the list and confirming your intention in the warning pop-up window that appears: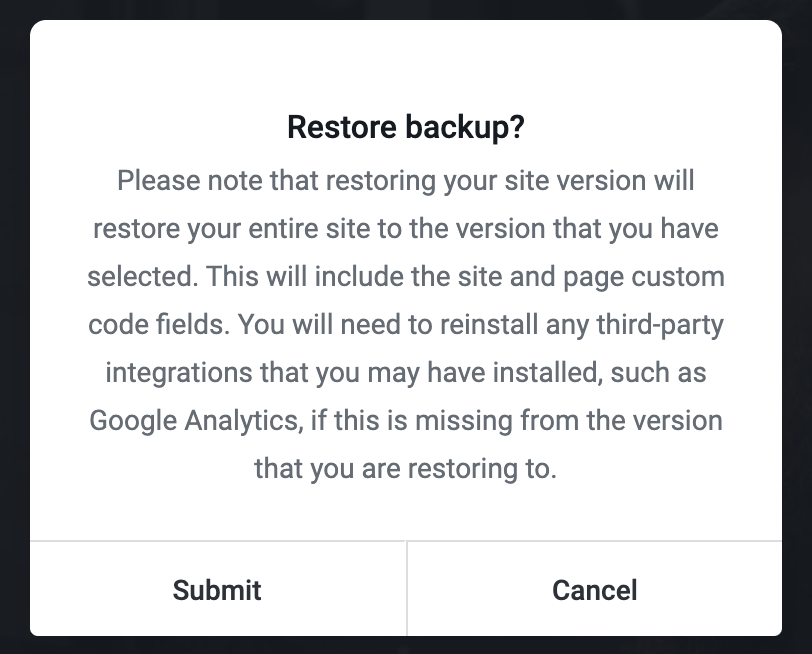 Once you click Submit, your website's previous version will be automatically restored. Also, a new automatic backup will be created, allowing you to access the current version of the site.
How many backups can I have?
With Yola Free, you can have 1 manual and 1 auto-backup.
With Yola Bronze, you can have 50 manual backups and 50 automatic. But, you can only restore two last backups - 1 automatic and 1 manual. To gain access to other backups, you need to upgrade to Yola Silver or Yola Gold.
On Yola Silver and Yola Gold, you can create 50 manual and 50 automatic backups. You have access to them all.