Customer notifications are email messages that customers automatically receive from the Online Store. Here are just some occasions notifications are sent:
They have successfully placed an order

You have changed their order status

Digital files they bought are ready to be downloaded
Managing customer email notifications
You can manage customer email notifications on your dashboard. Go to Settings > Mail. Here you can customize:
Which customer notifications you want to send and which ones you want to disable

Set the store name and email address that customers will see when they receive emails from your store

Improve your branding with a logo

Edit email notification templates

Remind customers about their favorite products

Request feedback

Appreciate recurring business and customer loyalty

Encourage customers to place new orders and remind them about your store by sending customers discount coupons
Enabling and disabling customer notifications
By default, all customer email notifications are enabled in the store. You can see and manage these notification options in your store admin, go to Settings > Mail and navigate to the Customer notifications section.
You can choose what emails you want to send to customers and disable those you don't need. For example, if you frequently change order statuses in the control panel and don't want the customers to see numerous updates, you can disable Order status changed notifications and enable only the Order shipped notification.
To enable or disable customer notifications:
From your dashboard, go to

Settings > Mail

.

Navigate to the

Customer notifications

section.

Click on the toggle on the right to enable or disable notifications to your customers. Note that you can customize each template to your needs by clicking Edit next to each message: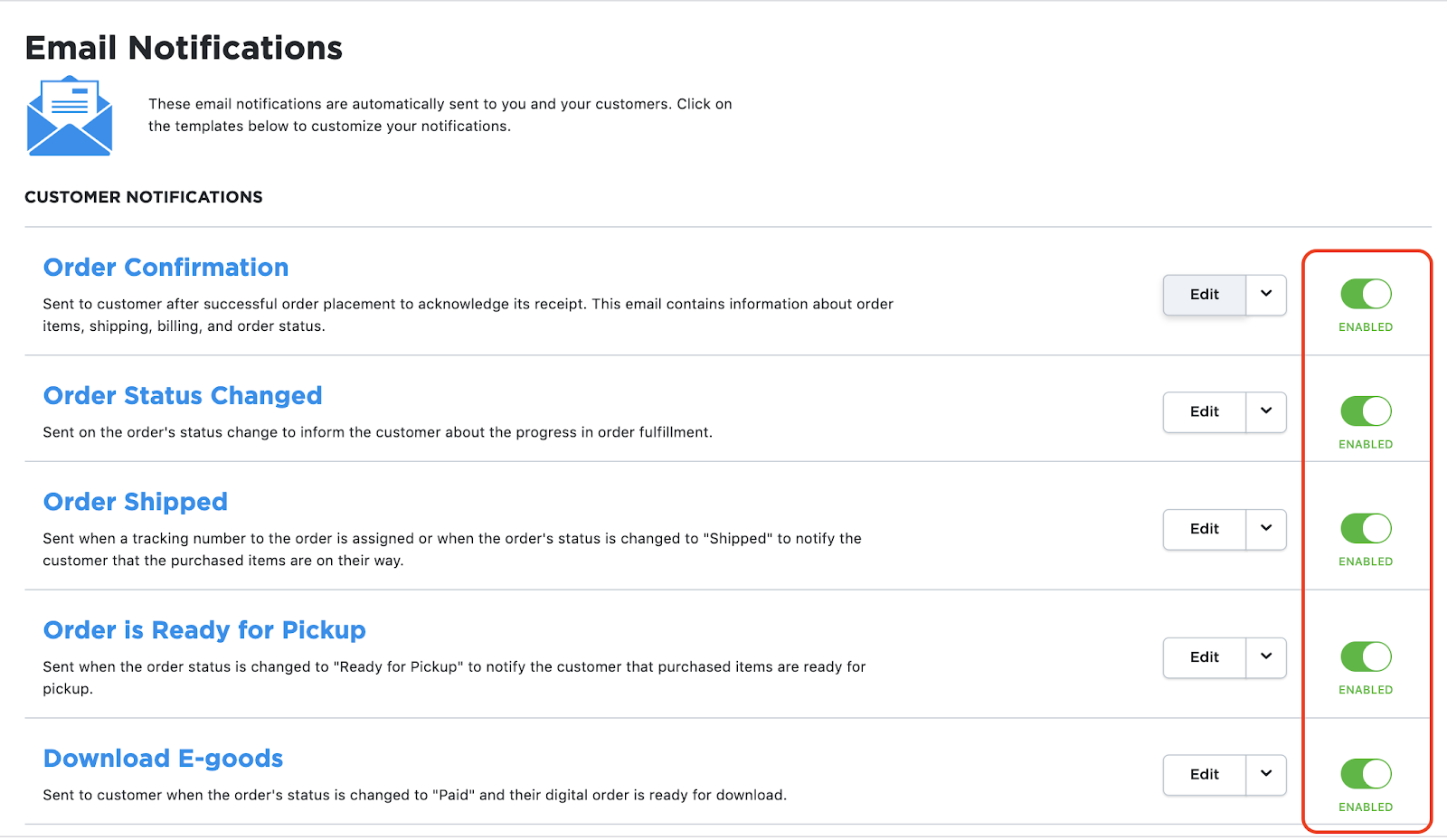 You can change customer notifications at any time.
Changing the "From" email address and store name
You can specify what email address customers will see as "from" address when they receive notifications from your store.
To change the "from" email address and store name for your customer notifications:
From your dashboard, go to

Settings > Mail

.

Scroll down to the

Mail settings

section and click

Change

.


Edit the Send customer notifications from the area: In the

From name

field enter the store name that you want customers to see when they receive your emails. In the

Store email

field, enter the email address you want customers to see as the "from" address.

Save changes.
The store name and its email address will show as the "from" address for new email notifications sent from your store.
Editing customer email templates
Default customer email notification templates were designed to work well for different businesses and niches. If your business doesn't have any specific needs, the default templates should work just fine for you.
You can edit each template. You can brand the email templates so that they contain your business colors. You can also offer discount coupons or add custom messages informing customers about new products in your store. Learn how to customize customer email notifications.
Other helpful articles
Customizing emails sent to Online Store customers
Requesting marketing consent from customers