Before your first order, you must decide how you would like to deliver your products to customers and how much to charge them for shipping. You can combine several shipping strategies in your store in order to cover all of your products and delivery locations.
If you sell services or downloadable products, you can skip the shipping step at checkout.


Calculating shipping costs
Different factors can affect the actual cost of sending your products to the buyer, such as:
Package weight and dimensions

: Shipping carriers like USPS, FedEx, and UPS calculate shipping charges based on the actual weight of the package.

Shipping destination

: Your shipping costs will be higher if you offer international shipping in your Online Store.

Value of shipped products

: If you sell high-value products you may want to purchase insurance. This will increase shipping costs.

Delivery times

: Some buyers prefer to pay for expedited shipping. This cost is based on where the buyer is located.
After you find a shipping service to use, calculate your shipping costs to make sure your margins can remain high.
Example of shipping calculations
Here is an example of how much an online order can cost:
Product cost $30.00
Shipping fee $5.00
Packaging cost $0.75
Credit card processing $0.85
Total cost $36.60. To make a profit of roughly 50% for this product, you should sell it at $54.99.
Calculating shipping costs will help you choose a shipping strategy and decide at what price to sell the products.
If your margin is high, you may want to absorb the costs of shipping domestic orders and offer free shipping to your local customers.
To compensate for shipping expenses and still offer free shipping, you can slightly increase product prices in your Online Store.
Alternatively, you can choose to charge your customers the exact amount that you pay for getting their order shipped. You can use online calculators to check how much shipping carriers charge to ship products of different weights and dimensions to different destinations from your location:
If you sell locally, you can offer a local pickup or deliver the ordered goods yourself.
If you've been in the market for quite some time and sell many products, it might be cost-effective for you to use third-party logistics (3PL) like eFulfillment Service in order to outsource warehousing, packing, and shipping your products.
While your business is growing, review your shipping strategy from time to time and make any necessary adjustments.
Choosing a shipping strategy
Now that you've calculated the shipping costs for your product line, you will need to set it up and decide whether you, the buyer, or some combination will pay for the shipping expenses.
You can add as many shipping methods as you need in order to cover all of your products and destination zones.
There are four popular shipping strategies:


Allow a local pick up for free or for a small fee
If you have an offline store, you can offer a local pickup to those customers who prefer to purchase online and then pick up orders themselves. It's actually a good idea to offer a local pickup even if you do not have an offline store.
You can offer a free pickup, charge a small fee (to compensate for delivering products from your warehouse to the pickup point), or give a discount to customers who have chosen pickup at checkout (for example, you can give them a discount coupon with their order).


Free shipping
Statistically, shipping cost is among the main reasons why shoppers abandon shopping carts. Consider offering free shipping whenever you can to increase conversion in your online store. Usually, the cost of shipping is almost negligible for domestic orders, especially if your margin is high and you're shipping products that do not require extra packing or handling. To compensate for your shipping expenses, you can slightly increase your product prices.
You can also offer free shipping on orders over a certain subtotal amount to encourage customers to buy more. Or you can offer free shipping to certain customers by giving them a discount coupon code that they can redeem at checkout.


Charging exact shipping cost
If you use a popular service like USPS, FedEx, UPS, etc. to ship your products, you can charge your customers the exact rate that you are paying these carriers for each order. For this, you can set up your store to receive automatic online shipping rates from carriers (USPS, FedEx, etc.) at checkout.
If you are using the service of a carrier that is not integrated with the Online Store to obtain real-time shipping rates, you can manually add this carrier's shipping rates for various order weight ranges.
Flat rate shipping
If you deliver products yourself or your products have a similar weight and size, you can offer flat rate shipping for delivering your products to the customer's location. For example, you can charge $5 for the local delivery of any order in your store.
If you need a more complex shipping cost calculation than flat rates, consider using tiered rates that you can base off order subtotals or different order weights. You can use flexible tiered rates to charge different shipping costs for different order subtotals, to charge for shipping large products by freight, or to charge for any other shipping setup you may want to have in your store.
Setting up shipping in your store
No matter which shipping options you choose, first you should go through the initial shipping setup.
You should specify weight and indicate that the product requires shipping. You can do this in Catalog > Product > Tax and Shipping tab and moving the toggle to Enabled in This Product Requires Shipping or Pickup block: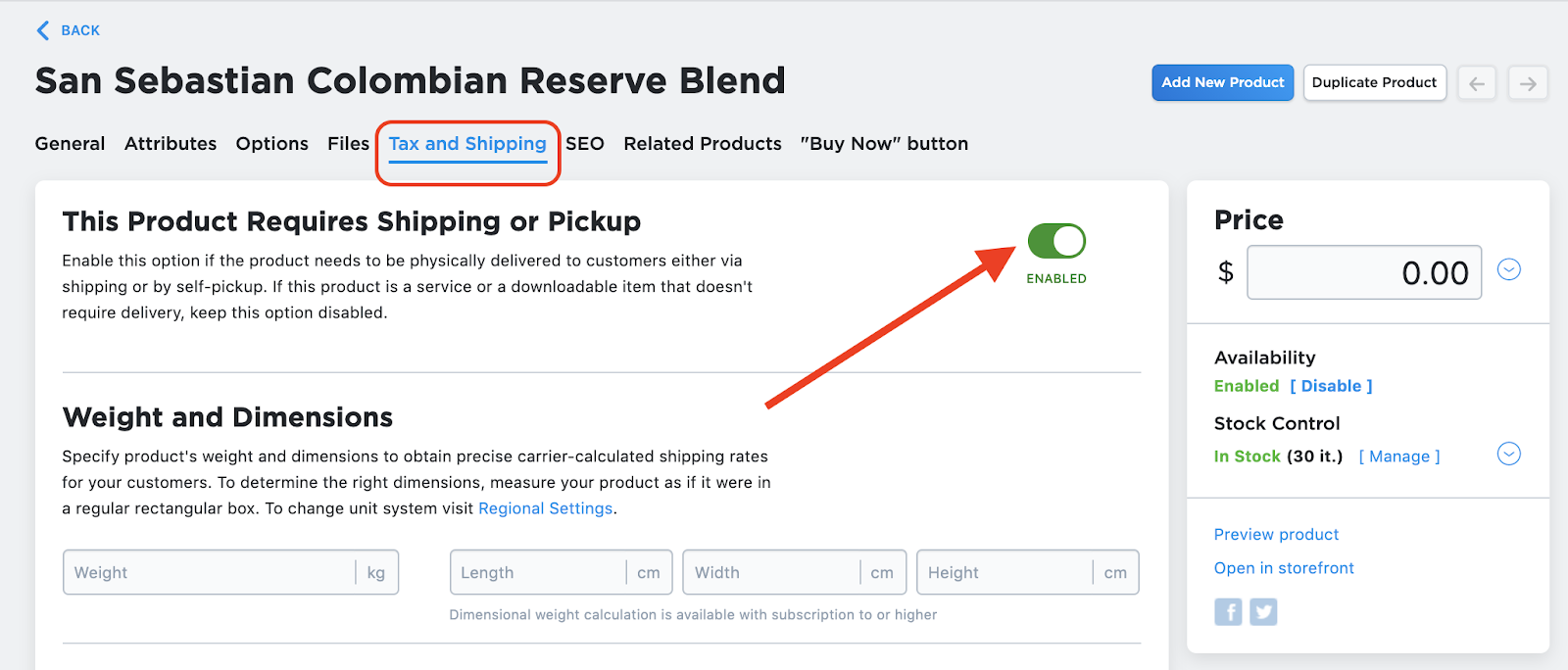 Tip: You can choose the necessary weight unit for your product in your store admin, go to Settings > General > Regional Settings, Weight & Size field.
Specifying your shipping origin
The shipping origin address is the location from where you ship your orders. It is used by integrated carriers as a ship-from address when calculating shipping rates in real-time.
By default, the company address that you entered in your store profile is set as your shipping origin. Make sure you enter the correct address if you are using real-time shipping rates in your store.

Optimizing shipping rates
You may need to cover extra expenses related to packing and shipping products to customers. You can charge your customers a small extra fee using one of these options:
Handling fee
This fee applies to all orders and is shown at checkout as a separate line. It is typically used to compensate for the time and cost it takes to package the order.
To cover the shipping expenses for certain products only (e.g. for fragile or large items in your product line), you can add a hidden fee as a fixed rate per item on top of your regular shipping costs.
Shipping markup
This hidden fee is added to the live rates returned by the carriers which you've enabled in your store. Be careful when adding extra fees as you want to keep your prices competitive.
If you are using real-time shipping rates from the integrated carriers:
Specify the right product weight and product dimensions so that accurate shipping rates are paid by your customers at checkout.

If you have negotiated shipping rates with a carrier and want to offer these discounted rates at checkout, add your own account information with this carrier in your store's settings instead of using the default account.
Other helpful articles
Enabling real-time shipping quotes
Adding shipping markup and handling fees