An embedded Facebook post on your website supplies a visual element that encourages increased click-through and engagement. Embedding external content is an effective way to increase engagement with social media posts.
Note: You can only embed public posts from Facebook pages and profiles. Read Facebook's tutorial on how to change the audience.
Here's how to embed a Facebook post onto your website.
Step 1 - Get the embed code 
You can get the embed code directly from the post itself.
Navigate to the Facebook post you want to embed and click it to enlarge the post. 
Click the ellipsis icon (...) in the top right corner of the post and choose

</> Embed

from the menu.


In the next window, specify whether you want to include the full post and add a time stamp for the video if it's in the post. Then click the

Copy Code

button.
Step 2 - Add the embed code to your page
In the Sitebuilder, find a place where you want to embed the Facebook post and click the

Add a block (+) Plus

button.

In the

Blocks library

, click the

Embed HTML

block.

Note:

This is a premium block, so an upgrade may be required.



Hover the block to activate the control pane. Click the

Custom HTML

icon.


4. Paste the code you have copied from Facebook into the Custom HTML window.
Step 3 - Add <center> tags
To prevent your Facebook post from being pushed to the side of the page, add <center></center> tags to the code. 
Wrap the code with <center> and </center> tags so the image displays in the center of your page. Click Submit. 
The results will not be visible at this stage, you need to publish your site for your code to be executed. If you want to check how the code works before publishing, use the Preview button on the Topbar. 
Here's the video of the process.

Step 4 - Publish the page
Once done, click Publish in the upper right corner of the Sitebuilder to make the changes live.
FAQ
What do people see in embedded posts?
The embedded post will show any media attached to it, as well as the number of likes, shares, and comments that the post has. Embedding posts will let people using your website see the same rich information that is shown on Facebook. It will enable people to follow or like content, authors, or Pages directly from the embedded post.
What happens if someone changes the embedded post on Facebook?
The changes will be visible immediately on your website's page. However, if someone deletes the post, the following message will display in place of the embedded post.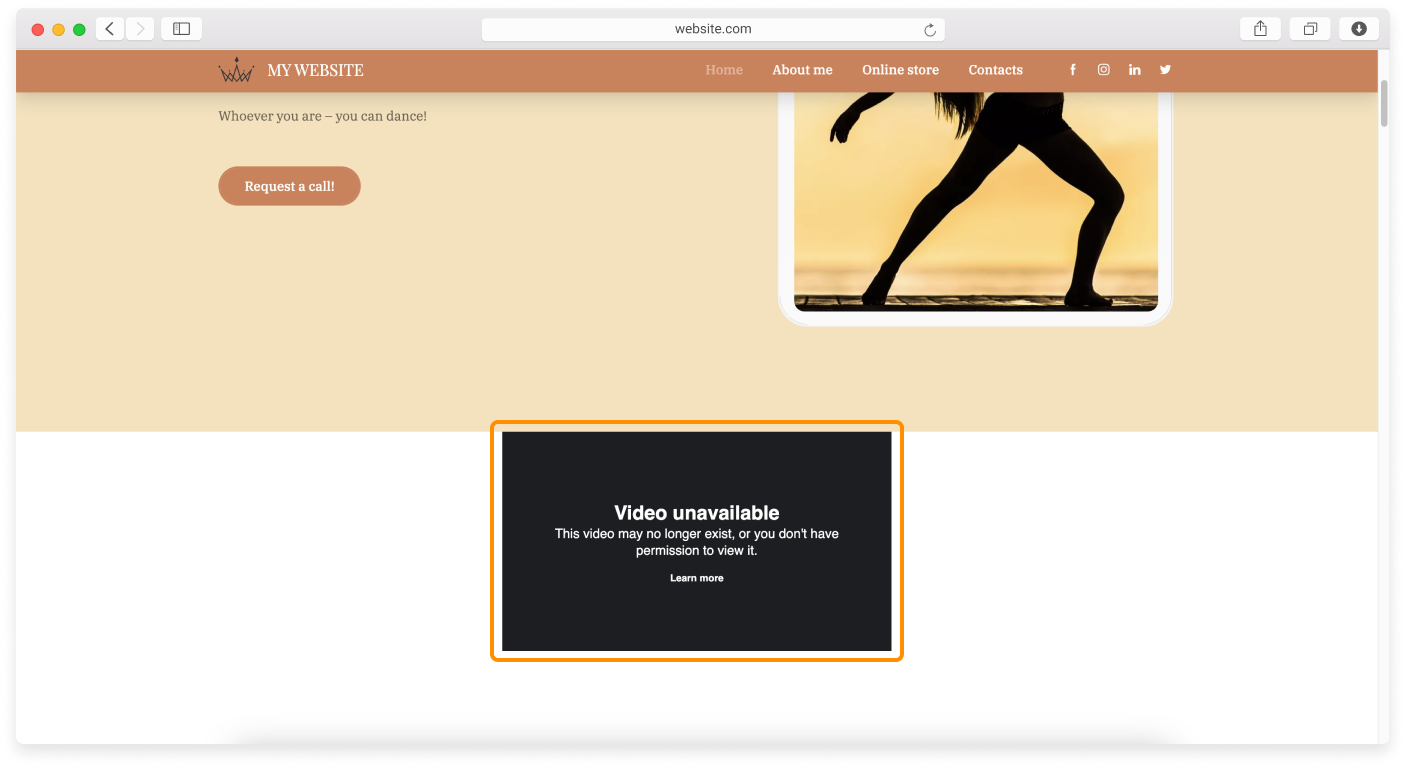 Find out how to embed a Facebook page feed from our dedicated tutorial.
We hope you find this article helpful. If you have any questions left, please contact our Support Team. 
Ready to use your new knowledge? – Edit your site!