Nofollow links are hyperlinks with a rel="nofollow" tag. The rel="nofollow" meta tag tells search engines not to follow one specific outbound link.
Note: All links in newly created Yola websites are dofollow by default. 
What the nofollow attribute does
Nofollow links can help website owners avoid problems with search engines that might believe they are selling influence or are somehow involved in schemes deemed as unacceptable SEO practices. This means that Google cannot penalize you for linking to a site that's known to be a low-quality site.
Note: Nofollow links do not influence the search engine rankings of the destination URL because Google does not count these links to increase PageRank (Google's own measurement of the quantity and quality of links). 
Check out the post from Google about the nofollow tag: Qualify your outbound links to Google.
For many SEO experts, a nofollow link from a reputable site is still more valuable than a dofollow link from a low domain authority site. In fact, having nofollow links can be a great way to drive traffic, use social signals, and support influencer marketing.
How to add a nofollow tag
When you're customizing a text link, select the Add a Nofollow tag option in the Link settings: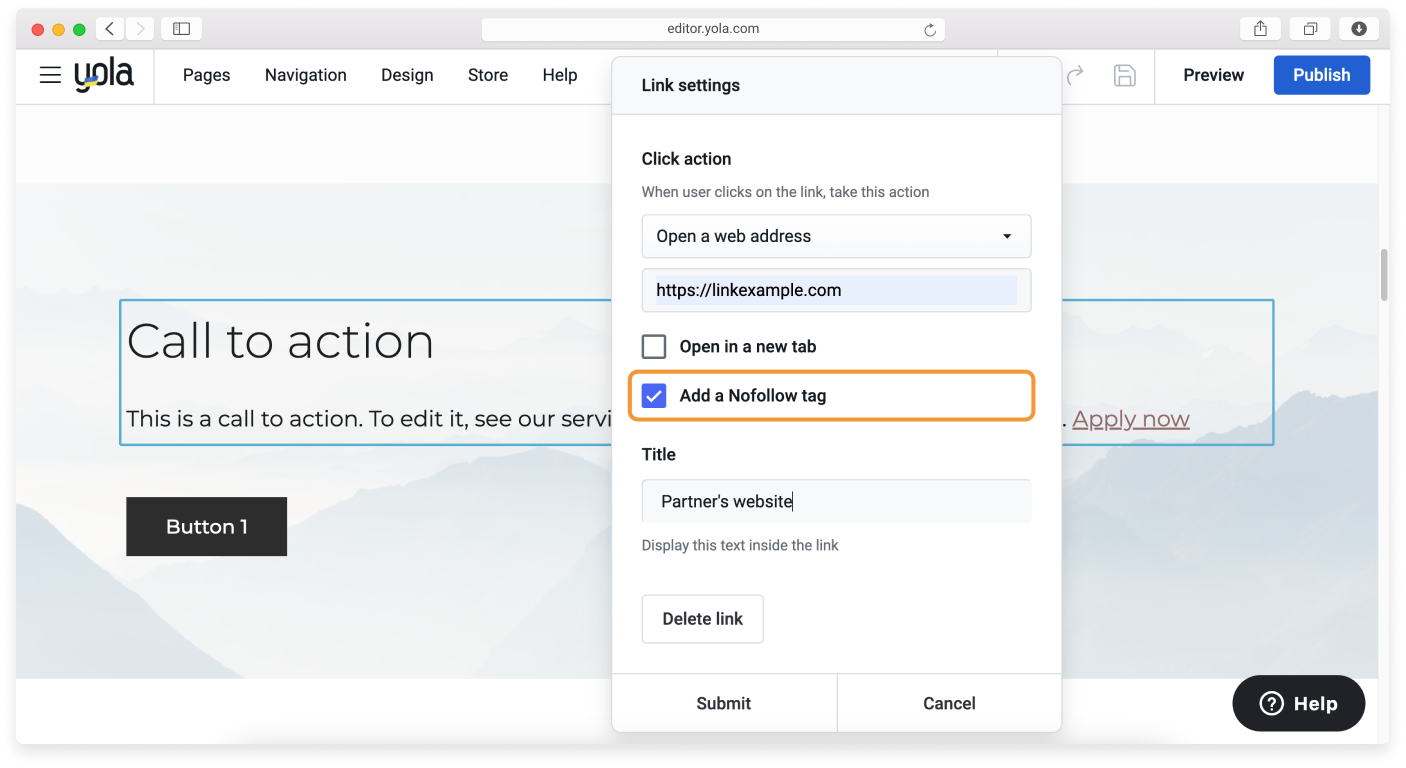 Then click Submit. Your link now has a nofollow attribute.
Changing the nofollow attribute
 You may want to allow a dofollow link in certain circumstances like the following:
Bylines of authors for the guest posts

: You may want to allow a follow link if your guest poster is someone known to you and whose site you trust.

Interview link

: If you are interviewing a celebrity or a subject matter expert, you can add a link to that person's site.

Editorial content

: If you are providing an unbiased and unpaid review of a product or a service.

Quotations

: If you are citing another article as a source.
Note: If you write a lot of review posts or if you receive something in exchange for reviewing it, then you may raise a red flag for Google, which may begin to view your posts as sponsored content.
To make the link follow, untick the option Add the Nofollow tag in the Link settings menu. 
We hope you find this article helpful. If you have any questions, please contact our Support Team. 
Ready to use your new knowledge? – Edit your site!