Text blocks allow you to add texts to your website. There are many uses for the Text block, including blogs, legal pages, product descriptions, sales letters, and more. Here's how you can use the Text block:
Blog posts: you can turn

Text

block into an article and link it to your News block.
Offer description: insert this block to provide more detail on the services or products that you offer.
Works well with other blocks: you can insert Text blocks between other functional blocks such as Booking, Contact, or About to describe your services in more detail.
You can choose from two block layouts:
- A text block with an image
- A text block without an image
Here's how you can add text-rich blocks to your pages.
Adding the Text block
Here's how to add the Text block:
Choose a location where you want to add an article and click on the

Add Block + button.

In the

Block Library, navigate to the

Text

section and click on a layout that meets your needs:


The chosen block will be inserted into the page.
Customizing a single text block
1. Insert the block as described above and click on any element to bring up the control pane.

2. Click on the "gear" Block settings icon to enter the Block settings menu.
3. You can change the following settings: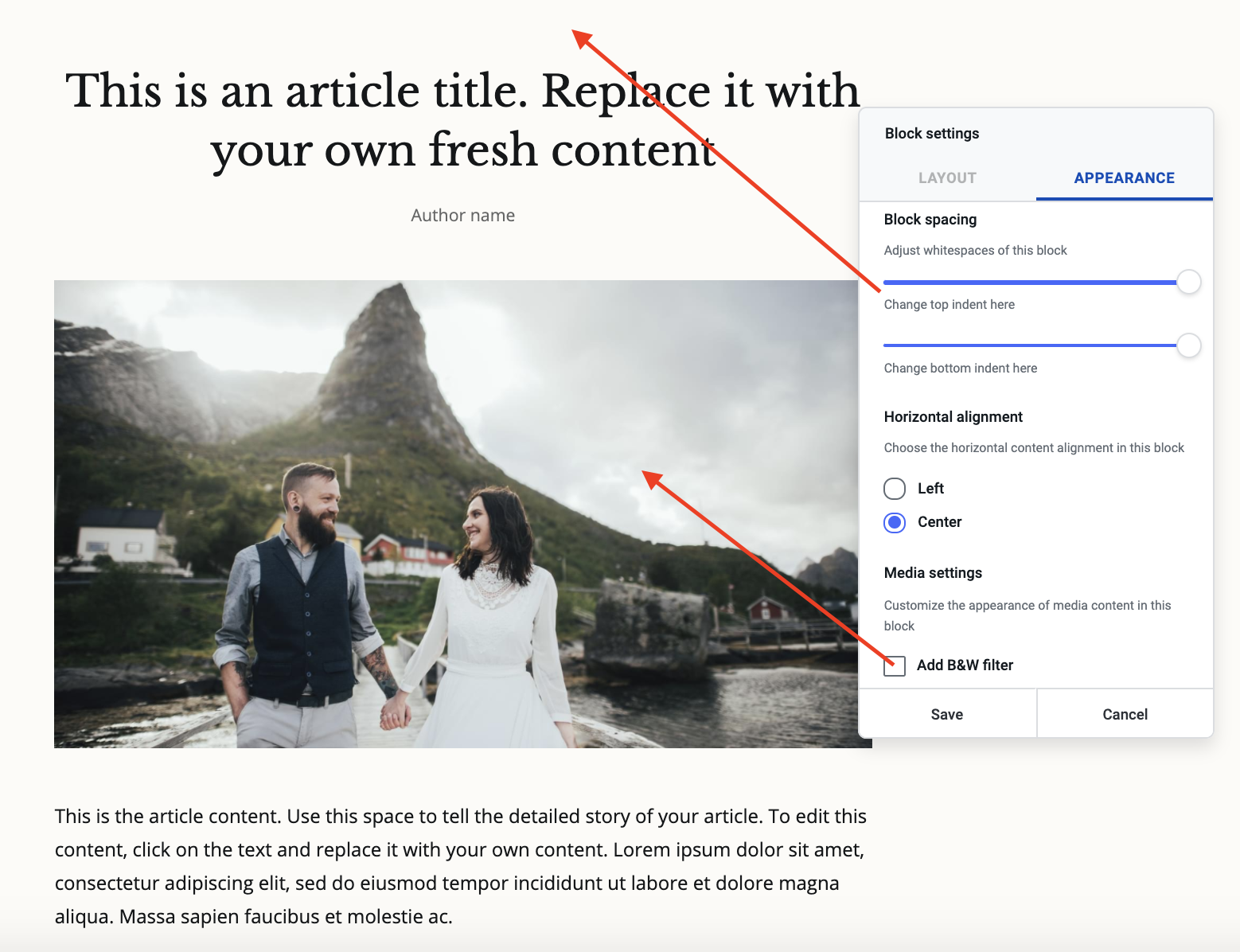 Block style: Choose the color scheme for the block. Please note that if you apply a new scheme, the colors of your block elements will be updated for maximum contrast and readability.
Block content: Choose whether you want to include article content.
Block spacing: Use the levels to increase or decrease the space between the block and other blocks on the page.
Media settings: Add B/W filter to the article image.
Editing text in block
To add your own text in the single article block, simply click on any line and start typing. You can also copy/paste the text from a text editor you are using. All the existing formatting will be preserved.
You can style your text with the following attributes:
Headings (H1, H2, H3)

Bold, italic, underlined
Emphasize a paragraph as a quote
Change alignment: highlight the paragraph and choose the alignment in the control pane:

Change text color - learn more about changing text colors
Create numbered or bulleted lists - read more

about

creating lists
Read this article about block text formatting.
To clear formatting, highlight the text for which you want to remove formatting, and click Clear icon: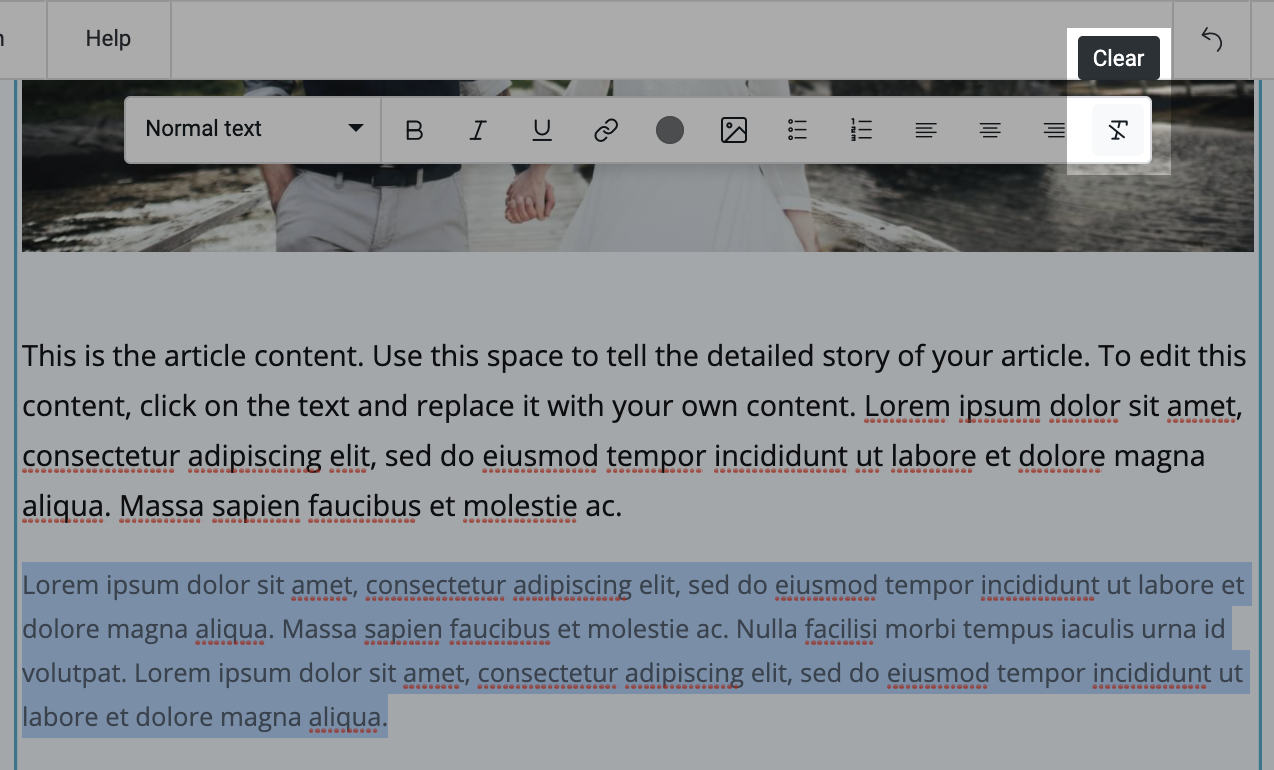 Editing images
You can replace demo images in Text blocks with your own visuals. Here's how you can do it: Adding images.

You can also add images inside the text block. To do that, locate the space where you want to add an image and click the Add Image icon in the control pane:

Locate the new image on your computer, click Open, and it will be uploaded to your site. The image will be resized automatically to fit the layout of the page: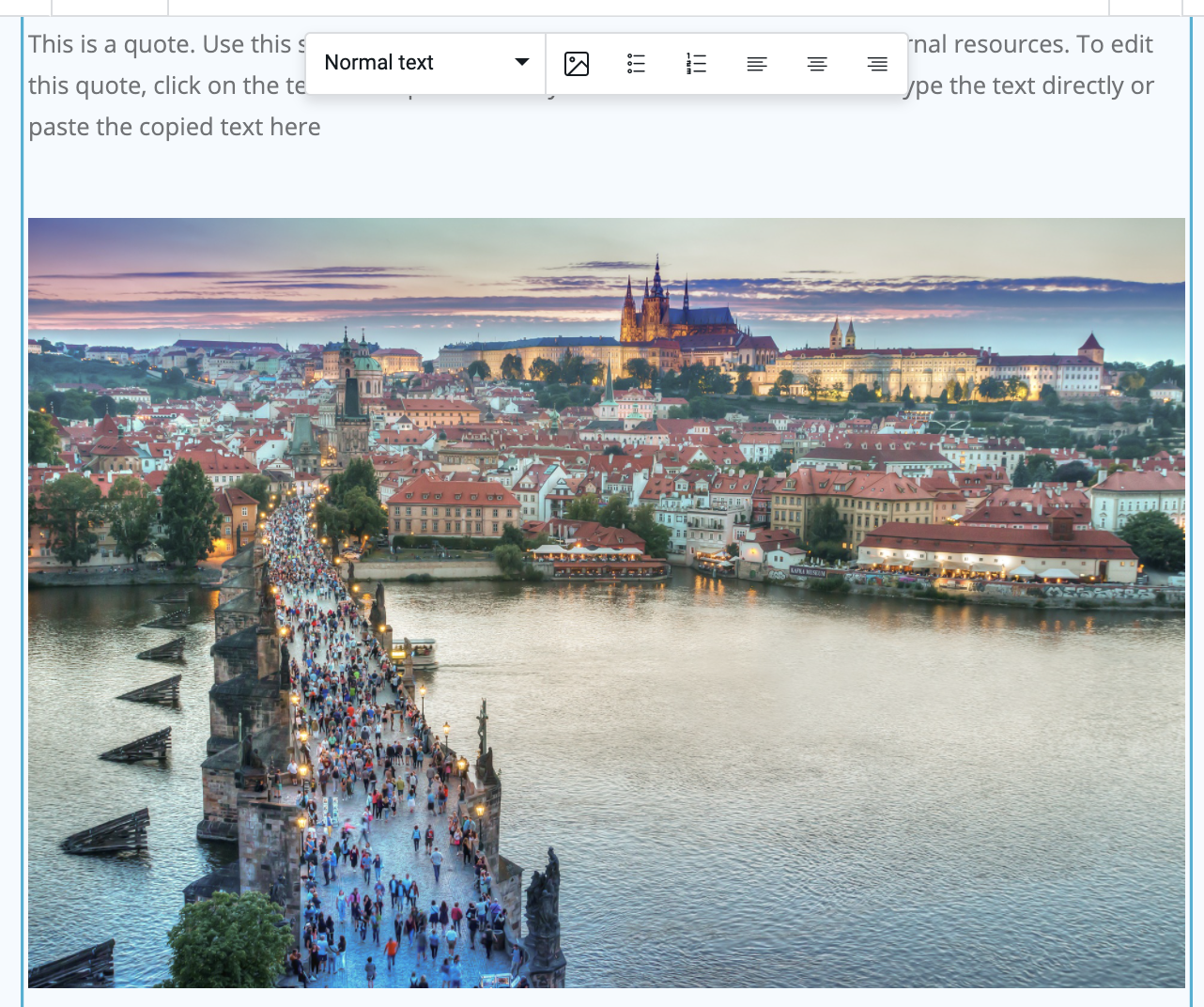 You can add multiple images to your text but remember to keep images reasonably small in size so that they don't make your page load slowly.
Editing article links
Here's how to edit links that lead to articles or other pages on your website: Creating text links.
Once you are done customizing your Text block, hit Publish to make the changes live.
Other helpful articles
Creating search engine friendly content