The General Data Protection Regulation (GDPR) is a European privacy law that took effect on May 25, 2018.
GDPR applies not just to European companies. The new regulation applies to every company that can potentially process EU nationals' data, which means that every company in the world regardless of its location is subject to GDPR.
GDPR grants people more extensive control over their personal data. Specifically, the new law gives people the right to access, correct, delete, and restrict the processing of consumer data, and it also sets strict guidelines for user consent.
If you collect or store any information that can be linked to an individual, that counts as personal data. You can read the full text of the GDPR to learn more.
Some businesses may need more preparation than others to comply with the GDPR. This guide provides a general overview of GDPR compliance and outlines the most common requirements.
How to prepare for GDPR
According to GDPR, merchants must comply with the regulation if they are based in the EU or sell to EU customers. Your online store collects and processes personal data in a compliant manner. However, it is your responsibility to comply with GDPR requirements when you collect and process personal data from your EU customers.
Under the new regulation, personal data is defined as any information that can be used to directly or indirectly identify a person. This includes a name, a photo, an email address, an IP address, bank details, posts on social networking websites, medical information, conduct A/B tests, and even random codes that are assigned to users to gather analytics and more. The following practices are recommended.
Get clear consent before collecting any data
You must obtain consent to process your customers' personal data. Prepare a clear privacy policy specifying why you collect personal data, explaining what data is retained, and offering a right to withdraw consent.
To enable consent query, do the following:
1. In your Online Store dashboard, go to Settings > Legal.
2. Scroll down to Customers' Consent area and toggle all the necessary buttons to green: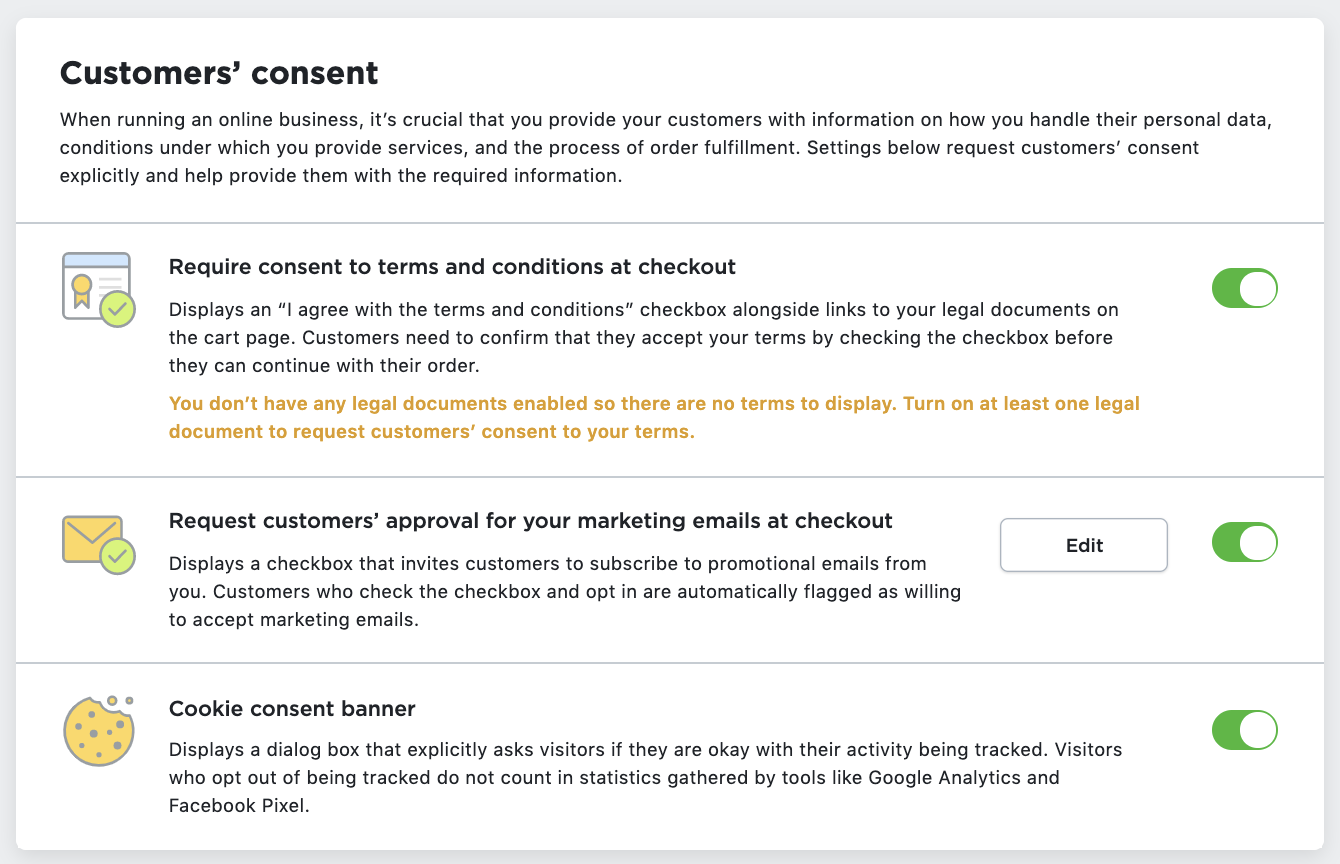 You may be prompted to add legal pages to your site at this stage. To see how to add a Privacy Policy, Terms & Conditions, and other legal pages to your online store, please refer to this guide.
Get clear consent before sending promo emails
You must obtain clear consent to send out non-order-related emails to customers. With the online store, you can add a sign-up option above the Checkout button in your store. This way you will capture such consent and then build a list of customers who agreed to receive your promo emails.
Clearly, show informs what fields are optional or required
Your online store clearly shows which fields are required and which fields are optional for filling out:
Make sure that you are using the Next-gen Checkout in your store, where this EU requirement is met. You can enable the Next-gen storefront in Settings.
Get clear consent for tracking store visitors via cookies
You should ask your store visitors for consent to track their actions in your storefront via cookies. Your online store allows merchants from the EU to add a special banner to gather such consents. You can enable it in your store in these easy steps:
Go to

Settings

>

Legal. Scroll down to the Customers' Consent area.

Enable the

GDPR cookie consent banner: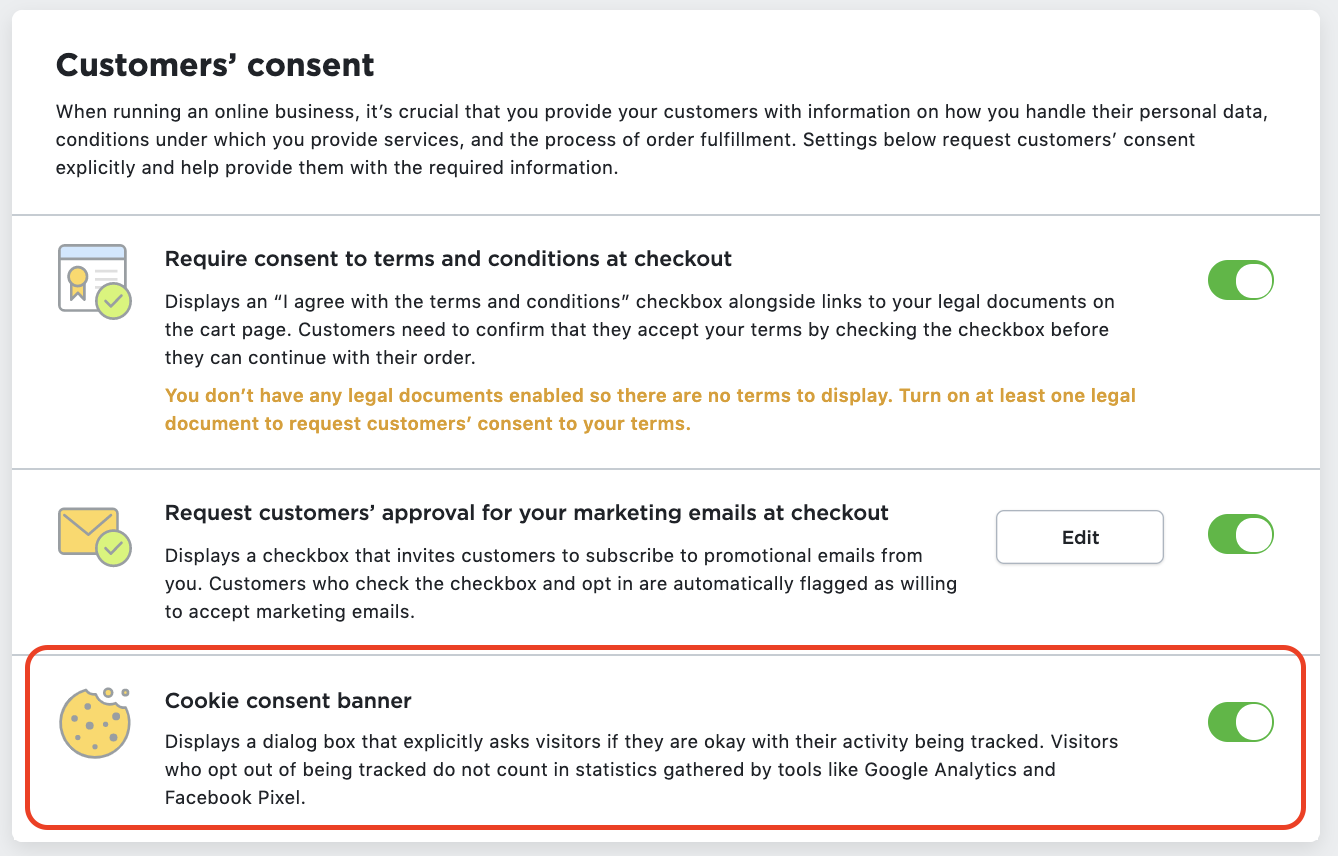 Once enabled, the cookie consent banner will appear on the storefront with the option to accept or decline:
The cookie consent banner works in the Next-gen storefront only. Make sure that all Next-gen options are enabled in your Settings.
Provide customers with the right to access their data
This means you must provide your customers with a copy of their personal data in an easily readable and portable format. You can access the customers' personal data right in your Control Panel. You should also take into consideration any third-party services you use that may have access to your customers' personal data. You can learn how to opt-out of non-essential data collection here.
Provide customers with the right to delete, edit or restrict certain data uses
Basic requests (e.g; a customer asks you to delete their order) can be quickly managed inside your control panel. Again, remember that any third-party services may have access to this data.
We recommend storing data digitally. Encrypted data protected with a password of the minimum recommended strength – or protected by means of a password generator – offer a secure option compared to printed invoices.
Data breach notifications
Your online store acts as a Data Processor while our merchants (you) act as Data Controllers. If your website is experiencing a data breach of any kind, you might be required to notify affected customers. Under the GDPR, a notification must be sent within 72 hours from the time you become aware of the breach. Data processors are also required to notify users as well as the Data controllers, immediately after becoming aware of a data breach.
Other helpful articles
Creating a GDPR-compliant cookie policy