One of the most essential parts of setting up your Online Store is configuring your regional settings which include:
Currency
Store language
Date and time
Weight and size units
These settings are important for accurate payment, taxes, and payment information in your store orders. Ideally, you should get these settings right before launching your store.
To access Regional Settings, navigate to Control Panel > Settings > Regional Settings: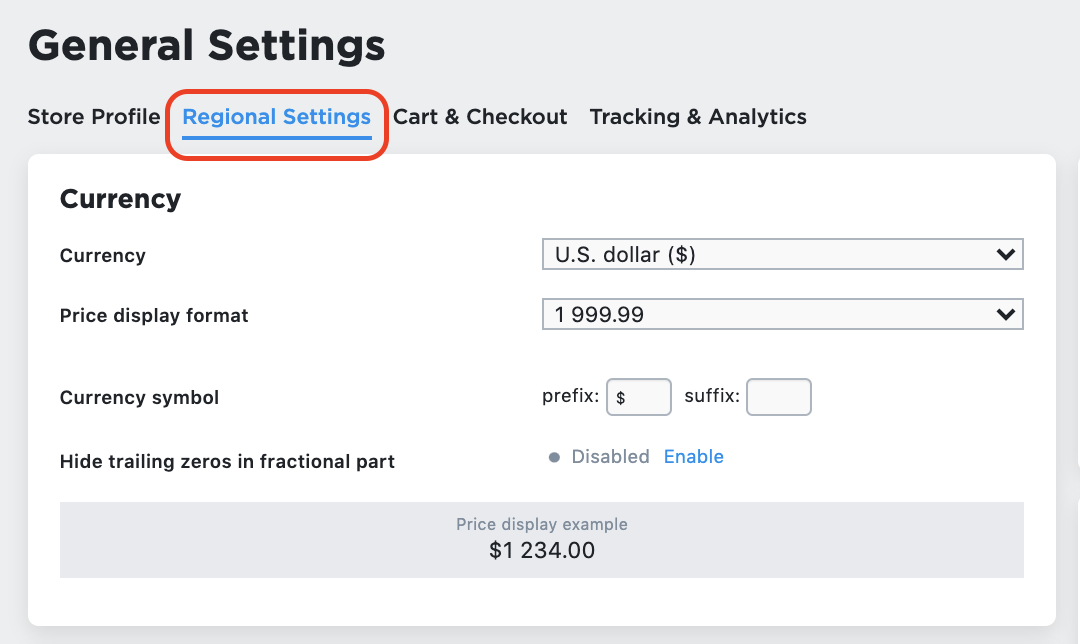 Changing the currency
Your online store supports all the official currencies, which means you can set the prices of your products exactly in the currency you want to accept in your store. Here's how you can set your store currency.
1. Find your currency in the Currency drop-down menu and set the necessary currency sign. If the selected currency has an official prefix, it will be added to the Currency symbol prefix field automatically.
3. Choose to add or remove zero signs in your prices, depending on your pricing structure. Click on Enable link to remove double zero. As a result, your store prices will look like this:
When you have finished setting up your currency, click Save in the upper-right corner or Ctrl-S.
Changing your store language
Your store language will be used in your store itself, your product catalog, email notifications, and invoices.
To make your store multilingual, you can enable additional languages in Language Settings. This article will show you how to make your store support multiple languages.
Setting up the date and time
These settings help accurately estimate the shipping time and send timely email notifications. You can choose your time zone from the drop-down list and also set your preferred date and time display format.
Setting up weight and size
These settings will affect your product catalog as well as your shipping rates so make sure to set them carefully. Depending on the type of products you are selling, you can choose the relevant product weight unit, for example, carats (ct) if you are selling jewelry or kilograms (kg) if you are selling heavier items.
Similar to the currency settings, you can choose whether to display trailing zeroes in your weight and size measurements.
After you have finished customizing the weight and size settings, don't forget to click Save to apply the changes.
Congratulations! You have successfully modified your Online Store's regional settings. This feature is available on all Online Store plans.
Other helpful articles
Changing currencies in Online Store
Setting up local delivery in your Online Store
Shipments and payments tracking