The
Image
block displays a single full-width image on the page. Here's how you can use the
Image
block:
Add a featured image

: you can insert the

Image

block between two

Text

blocks to add visual appeal to the content.

Banner image

: insert this block as a custom banner in addition to

Call to action

blocks.

Works well with other blocks

: you can insert

Image

blocks between other functional blocks such as

Booking

,

Contact

, or

About

.
Here's how to add the Image block:
Choose a location where you want to add your contact details and/or contact forms and click on the Add a block +

button.
In the

Block Library

, navigate to the

Image

section in the menu on the left and click on the block.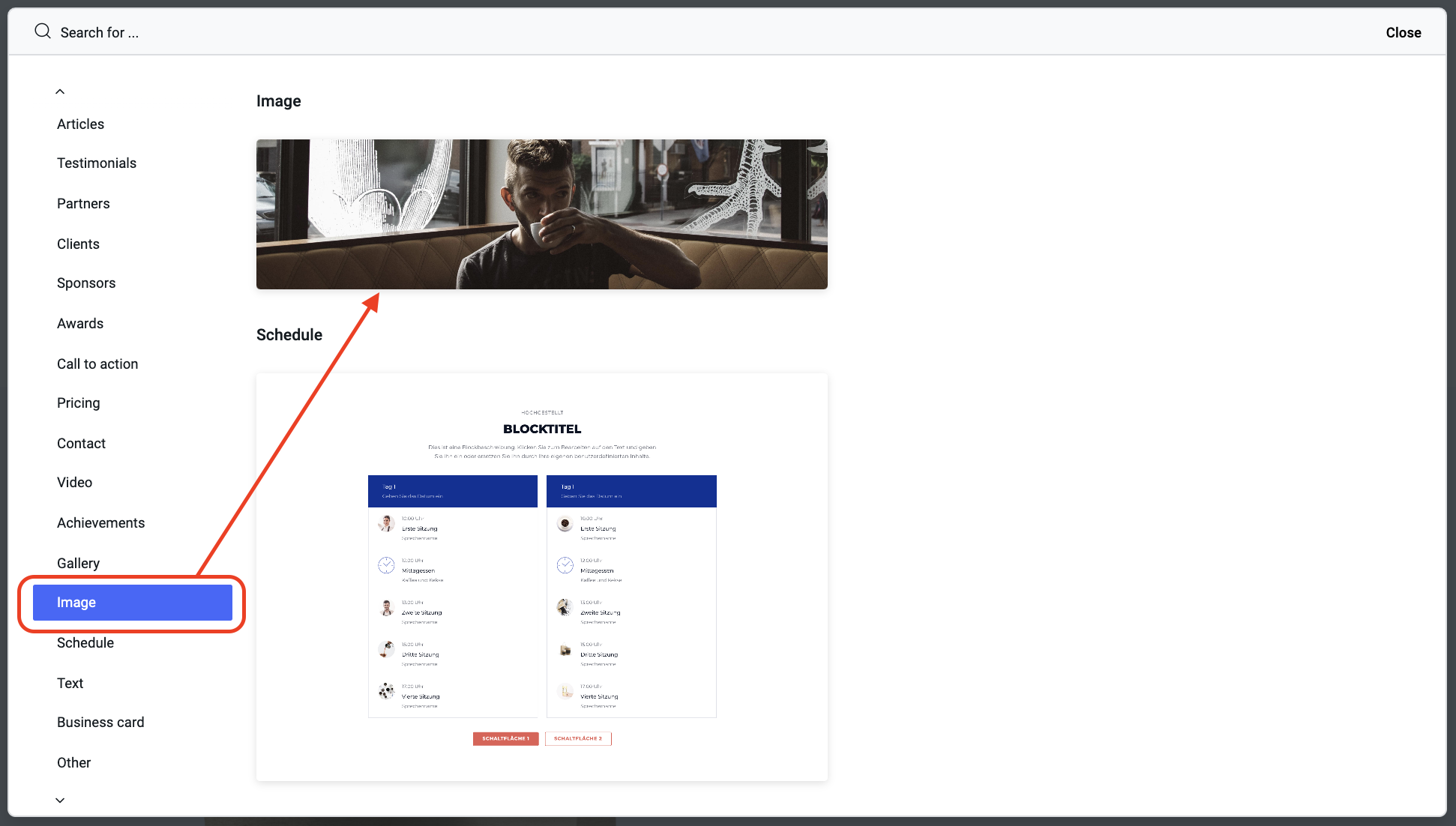 Customizing the Image block
Insert the block as described above and hover over any element to bring up the dialog box. Click on the "gear" Settings icon and the Block Settings menu.
You can change the following settings in the Appearance tab:
Full-screen

: when you tick this option, your image will display in its full size, filling the block with no margins left on either side.

Add B/W filter: Easily make the image black-and-white: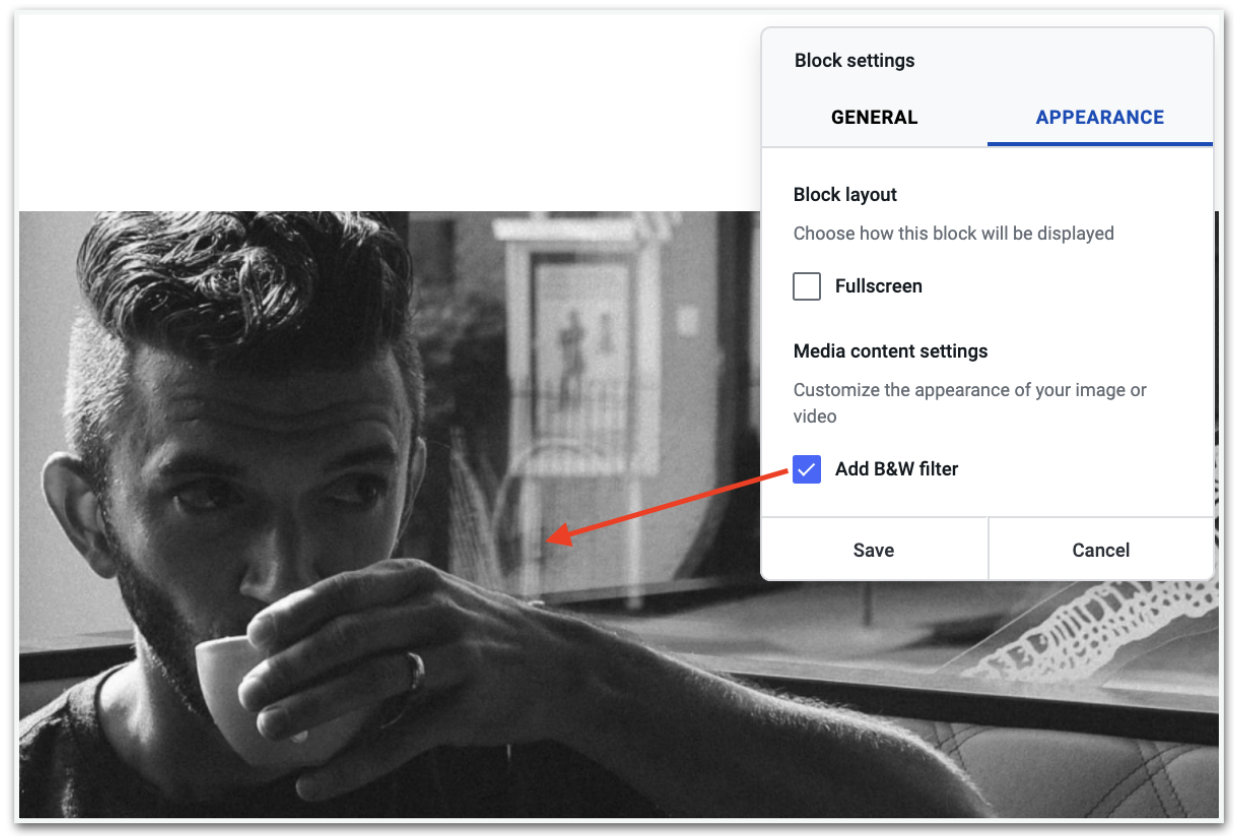 Once you are done customizing the Block Settings, click Save to confirm the changes.
Editing the image
To replace the demo images in the Image block with your own or stock photographs:
Hover the demo image in the block.

Click the

Edit image

icon.

In the Image resizer tool, click on the"arrow" Upload Image icon.

Choose the new image from your computer.
Click

Open

in your browser window. The image will open in the Image Resizer window.
Resize or refocus the image using the round lever in the Image Resizer tool.


Click the "check"

Submit

icon and your image will be inserted on the page.


Editing the image
Hover over the image block to activate the Edit Image menu. Right-click your mouse or long-press on the trackpad to access the menu: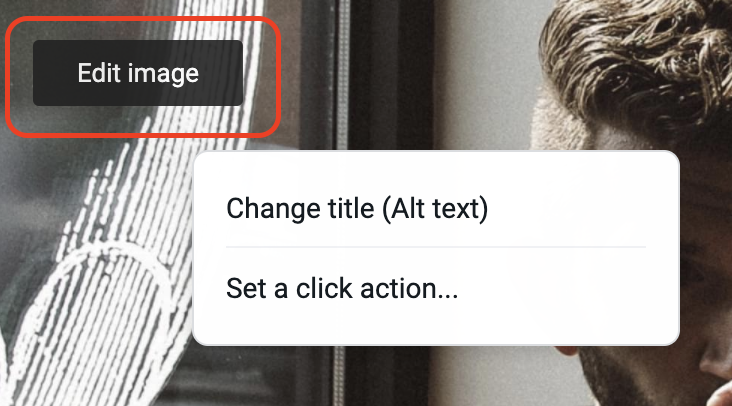 Read these tutorials to learn how to:
Need to add more images?
If you would like to display more Image blocks, simply duplicate them! Here's how you can do it:

Hover over the top of the block to trigger the appearance of the dialog box.

Click on the

Duplicate

icon.

The identical block element

will appear below the original one.
Deleting the Image block
If you would like to delete the Image block, here's how you can do it:
Hover over the image in the

Image

to trigger the appearance of the dialog box.

Click on the

Delete

icon to remove the image.
This action can be reversed by pressing the Undo button or Ctrl-Z on your keyboard.
Other helpful articles